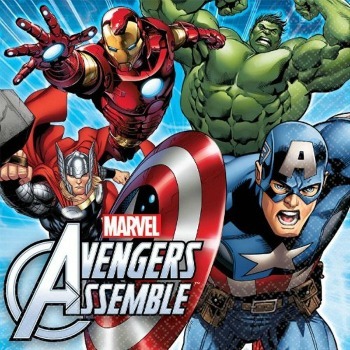 The Avengers Party Supplies
The Avengers is a fantastic party theme for a boys birthday party. It incorporates The Hulk, Iron Man, Thor, and Captain America. This is a great starting ground for a boys birthday party as you can ask the guest to come dressed as their favourite Avengers Character. This in itself will make way for some great imaginative Superhero play at the party. A superhero party is best to be held in a environment where this is lots of things for the boys to use as part of their imaginative play. I personally feel a big park with climbing equipment, bridges, tress to hide behind, and lots of room to run is just perfect for a Super hero party. You can organise a treasure hunt, and have the kids follow different clues around the park until they eventually find a Avengers Treasure Pot, you can have some party favours in the treasure pot that the kids can either use to play with at the party, or you may have them take their Avengers party bag with them on the treasure hunt and fill their own party bag as they go around the treasure hunt. I would only recommend the latter (Kids filling their own party bags) if there is say 8 or under, if their is more than that it won't work as you won't be able to keep a eye on how many favours each guest has and if it is fair. Other ideas for a Avengers superhero party is a pinata, tye it to a tree or if the party is in your back yard find a suitable place to hang the pinata, get the kids to all line up and have a turn each at hitting the pinata. Use a inflatable stick first to hit the pinata to ensure all the kids have a go then get out the real pinata stick to crack it open.


There is some fantastic kids party entertainment companies out their that have great super hero's come out to your party and basically take charge of the entertainment for you. Type in Kids Superhero party entertainment or kids party entertainment into google and their is lots out there. Make sure you read the reviews, phone and see what feel you get from the company are they energetic and sound genuinely interested in helping you pull of the best kids party or do they just sound like they are after your money? Ask friends, ask the community their are lots of mum local Facebook groups it is always best to get a personal recommendation, but also personally follow up any recommendations you get as companies can change hands, or go down hill etc and after all if you are going to party with $300 you want to get the best bang for your buck so to speak!!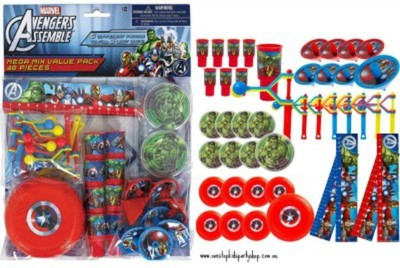 The Avengers Party Favours
If you want to make your Avengers Superhero Party extra special then take a look at some of our great Avengers Party Range that we sell here at One Stop Kids Party Shop.

The Avengers Favour Value Pack (48 pcs)

Pack contains

8 Avengers maze puzzles

8 Avengers flying discs

8 Avengers mini tops

8 Avengers siren whistles

8 Avengers mini clackers

and 8 Avengers cardboard rulers

Organise 8x great Avengers themed goodie bags easily with this great Avengers Party Favour Mega Value Pack!


Genuine Licensed Avengers Party Product

Top quality guaranteed!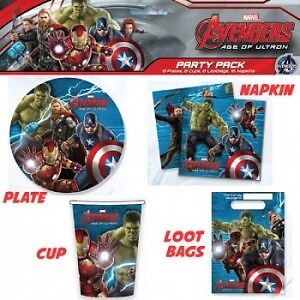 Avengers Party Supplies
At One Stop Kids Party Shop we have all your Avengers Party Supplies and Avengers Party decorations covered. We have the Avengers party plates, cups, table cover, napkins. As well as the Avengers Balloons and other matching decorations, please go to our Ebay website Megapartystore or our own personal website One Stop Kids Party Shop Australia and check out the full range of Avengers party supplies that we have on offer to help you create the best party ever!!
The Avengers Solid Colour Party Decorations
Don't forget it always looks really effective to mix up your licensed party supplies with matching solid colour party supplies. Licensed party supplies are very powerful and it can become over powering and look a bit tacky if you over do it!!