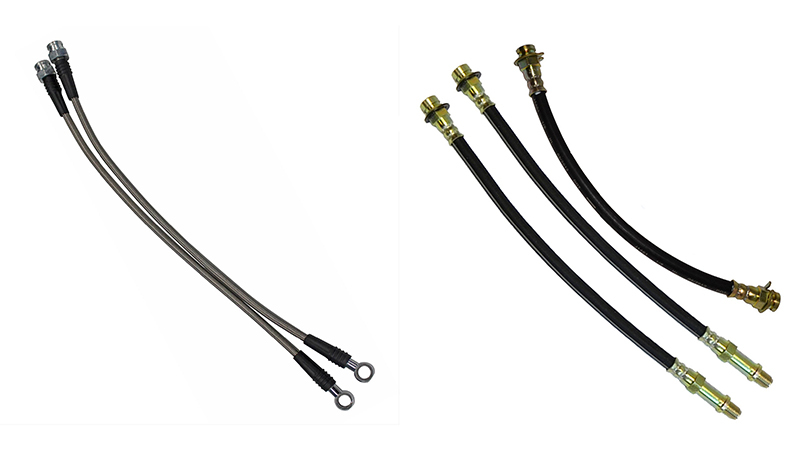 An automobile's brake lines bring brake fluid to the braking system, from the master cylinder where the fluid is stored. Their integrity is vital to the vehicle's performance and safety. When comparing brake lines, consumers should look at a variety of factors, including the line's materials, which impact the system's overall performance and longevity. Steel brake lines, for instance, are sturdy and strong, and resist swelling and puncture, unlike soft brake lines. But they can corrode over time and don't yield well to the hydraulic pressures in a vehicle.
What follows is an examination of the respective merits of braided and rubber brake lines. Rubber brake lines are some of the most common types installed in a vehicle before it's sold, whereas braided brake lines are common aftermarket accessories.
Rubber Brake Lines
Rubber brake lines are typically made from a rubber hose, which is protected by a covering of sturdy, woven synthetic textiles, and which are then covered by a final rubber covering. Rubber brake lines are sometimes called soft brake lines; they are more likely to rupture or suffer from wear than steel or braided brake lines.
Rubber brake lines are extremely common on consumer vehicles, due to their low initial cost. (They may, however, be more expensive in the long run, because they are more readily damaged and may need more repairs.) More high-end vehicles, or cars intended for racing, may have braided brake lines or other performance brakes installed initially, but generally if consumers want other brakes they should have them installed as an aftermarket alteration.
Braided Brake Lines
Braided brake lines are made of braided stainless steel, surrounding a soft brake line inside (which is typically made from Teflon or another sturdy synthetic). This technology is often used for other applications, as well, including in various home appliances.
This marries many of the benefits of soft and hard brake lines: the brake line itself is protected from accidents that might damage soft brake lines, but the line's construction also offers more "give" than a hard brake line, which keeps the connection points from becoming stressed and damaged over time.
While it may not be important to all vehicle owners, braided brake lines are generally held to be more attractive and fashionable than other kinds, due to their basket-woven appearance. The combination of aesthetics and high performance makes braided brake lines desirable for many hot-rodders and enthusiasts of high-end after-market alterations to vehicles.
Braided brake lines are also generally much more expensive than other kinds of brake lines. The initial investment may be worthwhile to some vehicle owners, especially considering how braided brake lines are generally more durable over time, but that cost may be prohibitive to other drivers.