~*~ Bras are My Passion ~*~

For the Full Breasted Woman
READING this may change the way you choose your BRA…..
THE PROBLEM
Things you probably already know !
Sadly, ESPECIALLY in Australia, Bras with LARGER CUP sizes tend to be:
a) UGLY, Really UGLY and HIDEOUSLY UGLY
b) Old Fashioned Shape-Style-Colour(White, yellow-white or grey-white)
c) Non-Supportive (Ugly Itchy Nylon Panels with ridgeing)
d) Rigid Support (non stretch - encases whole chest Straight Jacket Style)
e) Minimiser? (Hidden under your armpits or squeezed into chest wall)
f) Way Too Expensive ($90 Plus)
g) ALL OF THE ABOVE
What the manufacturers call a "Plus size" or "DD"+ Bra, is usually only Barely a "C" Cup with:
a) A larger back, and/or (Maybe we could Wear them Back to Front?)
b) A "DD" tag sewn in, and/or (Breasts can't read so it doesn't fool em)
c) Any lining or padding removed, and/or ( Breasts flop then fold to fit)
d) A larger underwire making the cup wider but Flatter, more shallow.
They assume we won't notice or just put up with it
Unfortunately
Bras are mass produced for the "AVERAGE" size woman.
As I am not an "AVERAGE" size,
I have had to Make, Alter or Remake every bra I wore.
I have tried AND Studied Hundreds of Bras from all over the World in search for a Bra that Fitted me properly & Was Comfortable.
THE SOLUTION
Things you probably didn't know……..


A Padded Bra
……I can hear you say (as I did) ARE you NUTS ??????
WHY would Any woman with BIG Boobs need a Padded Bra ????
No I'm not talking about the "Contour- Uplift- Push up" Type,

A Thin Foam Lining that is covered with Gorgeous Fabrics in Delicious Colours,

A Thin Layer of Foam Padding in a Bra doesn't add size to your breast...,
THINK ABOUT THIS SIMPLE LOGIC
Breast Tissue is HEAVY, so the Breast compresses the foam!!

Even if your breasts didn't completely fill out the cup, it would only be able to add 2-3mm at most !!!


Some of the Fabulous Benefits I found that a "Padded" Bra has ,
IT:
* Minimizes "Bounce or Flop" (Breasts appear Firmer and "Perky" )
* Minimizes Nipple Show (which are usually pointing south or cockeyed)
* Evens out any differences in Size and Shape of each Breast.
* Acts as a "Shock Absorber" (minimizing the risk of Stretch Marks and other damage.)
* Adds Support without Rigid Bindings.
* Helps achieve a more Sexier, and Modern Shape. (Youthful)
* Warmer in Winter
* Absorbs the perspiration in Summer (Lessens Sweat rashes)
* Foam Is Light so it doesn't add to the Weight of your breasts.
* Breasts are "Cradled in the cups, there is less stress on shoulder straps
* They come in LOTS of STYLES eg: T-Shirt, Plunge, Demi, Balconette
* They come in a Rainbow of Colours and Fabrics.
* Very Affordable from about AUD $15.00
Tell me now, WHY would any woman with
BIG Boobs NOT need a "PADDED" BRA ????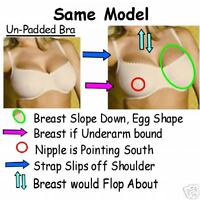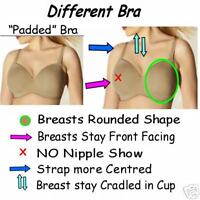 SOME POINTS TO PONDER (pardon the pun :)
*Breasts may appear "larger" because they are cradled in the cup, firmly pointing outwards, instead of being spread all over the chest (and under your arms).
*Not all padded bras are created equal………. what suits one woman may not suit your breasts.
*Some padded bras are "Pointy" or "stiffish" when new but after wearing and washing a few times they "soften" and "round" out.
*As with any change to what your used to, it takes a period of adjustment. Once your used to them, you'll never go back.......
*
Disregard Tag Sizes!!!
Select your bra by Measuring the
B
AND SIZE: From Hook to tightest Loop. AND
U
NDERWIRE SIZE: From Outside of one Underwire to the Outside of the Other Underwire
Take the Measurements from one of your Comfy Bras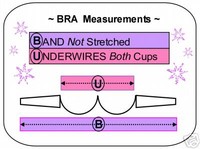 * Australia is a little slow to cotton on to these facts, I have been acquiring "padded" bras from U.S.A. & Europe for a few years, so I have a large Variety of Styles, Sizes, Colours and Fabrics available.
* All my Bra Listings include Band & Underwire Measurement, Tag Size and whether they have Generous, Average or Smallish depth Cups.
* Drop in and have a browse around, If you see something you like but need a different size, colour or style, email me with your measurements. Or if you have a question or comment, Please feel free to email me.
I hope you have enjoyed this Guide and
may you Always have wonderful eBay experiences