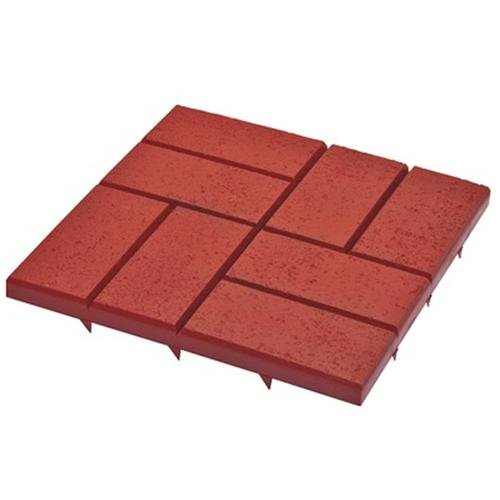 From pathways and walkways to driveways, there are many outdoor flooring areas that could benefit from brick paving stones or brick pavers. Buyers can install brick pavers themselves and they require very little maintenance making them a great addition to any home or garden.
There is a great range of brick pavers in a variety of styles, shapes, sizes, designs and patterns to choose from on the current market to suit the differences in individual tastes, preferences, requirements and desires.
The purpose of this guide is to inform the reader all about brick pavers and to explain how to purchase them safely, securely and efficiently from eBay.
Pavers
Interlocking brick pavers, also known as pavements, are a special dry mix pre-cast piece of concrete that is typically used in outdoor landscaping pavement applications such as pathways, walkways and driveways. Brick pavers are widely used in both residential and commercial areas for landscaping floors that typically endure high foot traffic.
Paving stones that interlock are installed over a compacted stone sub-base and a level bed of sand. Concrete paving stones can be used for a variety of exterior applications from walkways and patios to pool decks and driveways.
Instead of joining the pavers by pouring grout in between the joints (like tiled floors), particles of sand are spread over the pavers and are packed down. The sand stabilises the interlocking pavers whilst still allowing some flexibility and movement to occur- this allows the flooring type to absorb stresses from freezes and thaws to small earthquakes. Therefore the flooring type does not crack, break or buckle easily like poured concrete or asphalt.
Brick Pavers
Brick pavers are made of clay (natural brick) or are manufactured from concrete and are dyed to appear like brick. Real brick is made from shale and clay and is dried and fired at very high temperatures to make it incredibly strong. Brick pavers are fired in a kiln to give them a rough and porous texture- this process that gives brick pavers their non-slip surface. It is this non-slip property of brick pavers that makes them an ideal surface to have around water features such as a pool, pond or lake. Also, the water and chlorine present in ponds and pools will not encourage the colour of brick pavers to fade or the bricks to degrade.
Genuine brick produces a richer, long-lasting colour that won't fade unlike most brick imitations. Brick pavers are typically more versatile than concrete because they can be laid side-by-side, end-to-end or in diagonal patterns.
Brick pavers are easy to maintain as any spillages (such as food, gas, oil or other debris) can be easily cleaned up with water and a mild detergent. Spilt chemicals will not cause stains or encourage erosion.
Brick pavers are available in a range of different colours, although the most popular are brown, red and green. There are also many variations of these colours that buyers can choose from including light cream, dark brown, terracotta to name only a few.
Why buy Brick Pavers?
There are many benefits of opting for brick pavers over other flooring types including; high compressive strengths, easy installation/removal/relaying and a great appearance. Brick pavers are also a great lifetime investment due to the fact that the lack of dyes and pigments strengthen the flooring type's structural integrity.
Pavers are also environmentally friendly because they are typically made from the natural clay that is found in soil.
Considerations When Shopping for Brick Pavers
Shopping for brick pavers can be quite challenging so it's strongly recommended that buyers take the following advice in mind when doing so:
· Some states may require a building permit to install them so always check with the local restrictions prior to installation.
· Buyers aiming to install brick pavers on their own may require: underlayment, edging, a plate compactor, sand and a weed barrier.
· To avoid efflorescence (the loss of water), it is strongly recommended that buyers do not use calcium chloride de-icers on brick pave ways.
· When installing brick pavers, it's often advisable to use lighter colours around the garden (near the pool area for example) and leave the darker coloured pavers for areas that endure high traffic (such as the driveway or paths).
· Buyers choosing non-conventional patterns and designs such as the Herringbone (450 and 900), basket weave and stretcher bond, should consult a professional bricklayer or builder before installation. Buyers opting for these complex designs should consider employing a professional to install their brick pavers properly.
How to buy Brick Pavers on eBay
The choice of brick pavers online greatly outnumbers those that can be found on the high street and numerous amounts can be analysed and compared alongside each other aligned with the buyer's individual tastes, desires, requirements and preferences. In this sense, eBay is perfect for presenting a quick, easy and effortless route into searching for brick pavers on the internet.
For the most successful purchase keep the following guidelines in mind for efficient and safe shopping on eBay:
Search – To find a product on eBay using the search toolbar simply:
· Enter "brick pavers"
· Then click the category entitled "Home & Garden" located on the left-hand side of the screen
· Next click the option "Building Materials, DIY"
· Then finally click the category "Other Building Materials"
New or Used – To accommodate for all buyers, eBay stocks an extensive range of brick pavers in both new and used conditions. To select the condition of the brick pavers, buyers must simply click 'New' or 'Used' under the category "Condition" located on the left-hand side of the screen.
Shop Safely – In order to have the most successful purchase shopping on eBay; always read the product description thoroughly (to confirm exactly what is being purchased), review the postage details and payment options prior to purchase.
Buyers can always contact the seller if unsure about the transaction. This function can also be used to ask the seller a question about the product or simply if more information about the product is needed.
Use PayPal – Although eBay accepts a range of payment methods, PayPal is the safest way to make online payments. PayPal allows shoppers to send payments securely and quickly online using a credit card, bank account or PayPal balance.
To find out more information about how PayPal and eBay work together to provide customers safe shopping online, visit the 'About PayPal' section on eBay.
eBay Deals – Don't forget to check out the latest deals on brick pavers by looking in "Backyard" section of the "Outdoor & Travel" department. Many fantastic additional discounts can be found here along with free postage costs.
Conclusion
There are many factors to consider and issues to take into account when purchasing brick pavers. However with the important information and crucial considerations outlined as part of this guide, coupled with eBay's highly detailed and easy to use website, purchasing brick pavers is quick and easy.
Buying on eBay should be considered not only due to the prospect of finding a good deal; but due to the extensive range of brick pavers that the website offers. Remember to always keep personal information and banking details safe and secure by using payment authority PayPal to complete transactions with eBay sellers.