British Lorries of the 1950s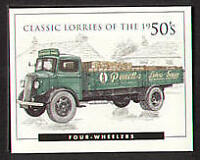 This is one of many illustrated classic British lorry guides I've created for the community. I hope you enjoy it. If you wish to find out more about the classic 1950's British lorry art featured in this guide please click here.
This guide features several classic British lorries of the 1950s.
AEC Mercury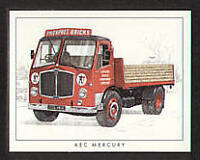 Introduced in 1953, the low-weight AEC Mercury, produced at Maudslay, near Alcester, brought a new style to AECs with its flush mounted headlamps and wide dummy radiator grille. Park Royal Vehicles built most of the cabs but there were numerous others from proprietary bodybuilders such as Duramin, Holmes and Bowyer Bros. At 12 tons gvw the Mercury was a full 8-tonner. It was powered by the new AV410 98bhp diesel although for customers wanting a larger engine, the 125bhp AV 470 was an option.
Albion Claymore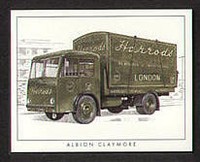 Underfloor engines were being considered by several manufacturers in the fifties including Sentinel, Albion, Commer, Atkinson and Rowe-Hillmaster. Among the best remembered was Albion's underfloor-engined Claymore, launched in 1954 and aimed at operators requiring a three-seater cab such as in brewery and furniture removal fleets. It was powered by a horizontal version of Albion's 4.1-litre 4-cylinder diesel and had payload ratings of 4 or 5-tons.The Albion name disappeared in 1972, being replaced by Leyland.
Bedford S-type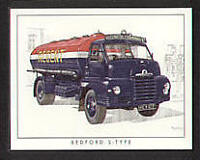 Bedford's first civilian forward-control truck was the 7-ton S-type or "Big-Bedford" as it was christened by the marketing men. A completely new design concept for General Motors, its style was clearly influenced by the parent company's GMC trucks of the period. Originally fitted with a 110bhp 6-cylinder petrol engine a diesel option in the form of the Perkins R6 arrived in 1953 and in 1958, Bedford's own diesel. The S-type was discontinued in late 1959.
Dennis Pax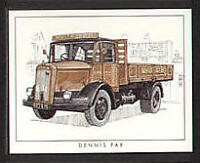 In the period that followed WW2, one vehicle that typified the local delivery brewers dray was undoubtedly the Dennis Pax. Available originally with the makers own petrol engine, a diesel engine option was offered later. With a wheelbase of 3.5m and a set-back front axle, the Pax was a plain vehicle built to the highest standards. It had no pretensions about following the styling trends of the post-war years. Whitbread were confirmed users of the products of the Guildford based manufacturer.
ERF KV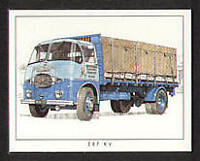 Edwin R Foden broke away from his family Foden concern and started to make his own diesel powered lorries in 1933 using proprietary units such as Jennings cabs and Gardner engines. A classic ERF model of the 1950s, with arguably the most striking cab design of the period, was the KV ( Kleer-Vue ) introduced in 1954. Its distinctive oval radiator grille was quite different from anything offered by other manufacturers and was viewed as very modern at the time.
Foden FE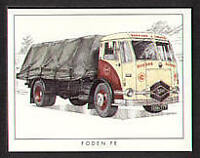 The well-known Robsons Border Transport fleet utilised the Foden FE 4-weel platform dating from 1954. Robsons of Carlisle were operating a diversified fleet in excess of three-hundred vehicles at the end of the fifties, generally favouring Foden. Their fleet was perhaps so memorable since every truck had its own name beginning with Border, an unashamed reference that Carlisle and the Border country of England and Scotland is where the Robsons company was born and flourished.
Guy Vixen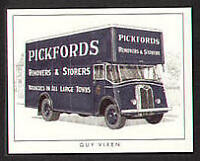 The dark blue Guy Vixen pantechnicons of Pickfords Removals were a familiar sight in all parts of Britain during the fifties. Essentially a pre-war design, the Guy Vixen used a four-cylinder 3.7-litre petrol engine which developed 58bhp. This unit was replaced in 1955 by the Perkins P4, giving a welcome increase in power. Guy Motors were taken over by Jaguar in 1961, which in turn was taken over by Leyland in 1968. Production of the Vixen model ceased in 1964. Production of all Guy vehicles finally ceased in 1979.
Karrier Bantam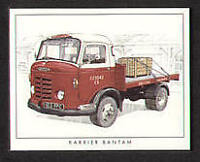 Karrier Motors Limited were established in 1908 as Clayton and Co ( Huddersfield ) Ltd and moved to Luton in 1934 after being acquired by the Rootes Group. Under Rootes ownership, the Karrier marque became particularly associated with municipal and urban delivery vehicles and the Bantam range, introduced in 1936, quickly became established in this field. The range was updated in 1948 and equipped with an all-steel cab similar to that fitted to the forward-control Commer lorries.
Leyland Comet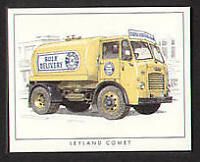 Designed and produced at a time when the country was desperate for exports in the aftermath of the war, the Leyland Comet was launched in 1948. First in the range was the normal-control Comet 75 fitted with a 305 cu in (5-litre) diesel engine. When the 0.351 engine became standard in 1952 it created the Comet 90. A forward-control version was available from 1953 and was fitted with the later "600" series steel cab, with alternative steel cabs from proprietary bodybuilders.
Thank you for reading my guide and I hope you found it interesting!