British Lorries of the 1960s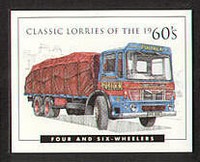 This is one of many illustrated classic lorry guides I've created for the community. I hope you enjoy it. If you wish to find out more about the classic 1960's lorry art featured in this guide please click here.
This guide features nine classic lorries from the 1960s.
Thames Trader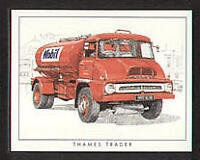 The Ford Thames Trader forward-control chassis was introduced in 1957 and remained in production until 1966. The large range offered payload capacities from 3 to 7 tons and short-wheelbase tractive units for hauling semi-trailers. Engines were four-cylinder petrol or diesel (3.4 and 3.6-litre) for models up to three tons. Above that weight the model used either a 4.8-litre six-cylinder petrol or a 5.4-litre six-cylinder diesel. They all used the same cab design, although there were small variations on the grille and headlamp panels.
Seddon Diesel 12-4
The firm of Foster and Seddon was formed in Salford in 1919 as motor coach distributors. Vehicle manufacture commenced in 1938 with diesel engined 6-ton vehicle. After the war limited production was resumed, with around eight to ten vehicles a week leaving the factory. New works at Oldham were acquired in 1946 and in 1951 the company became Seddon Diesel Vehicles Ltd. Seddon was the first company to employ a glassfibre for bonnets and cabs in 1954. "British Road Services" added the 12-ton gvw to their fleet. This 7.5 to payload model was powered by a choice of Leyland 370 or Perkins 6.534 6-cylinder diesel engines.
Leyland Retriever
Leyland first used the model name "Retriever" in the 1930s when it was applied to the WLW1 chassis, a cross-country six-wheeler, phased out in 1942. It was revived in 1964 for a 6x4 chassis designed primarily for tipper/mixer applications. The Leyland Retriever lorries were commonly seen displaying the Ready Mixed Concrete livery, fitted with what Leyland described as the "Vista-Vue all steel luxury cab". Elsewhere in the industry this type of cab was known as the LAD cab, it being Motor Panels production shared by Leyland, Albion and Dodge.
Guy Warrior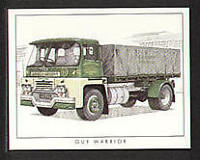 Guy launched their Invincible Mk2 and Warrior Mk 2 models at the 1958 Commercial Vehicle Show. More powerful than ever, they not only offered a versatile range with a choice of modern diesel engines but they featured one of the most outstanding cab designs ever to be seen on a British commercial vehicle. Angular, yet elegant, the forward leaning cab had panoramic windscreens and spacious accommodation with luxurious seating. It was sound and heat insulated and offered refinements such as an electric shaver, radio and cigarette lighter.
Foden S20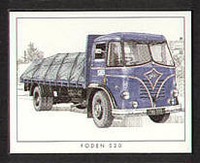 The elegantly bow-fronted S20 cab was first seen on Fodens during the mid-1950s as a natural progression of the FG range, and is without doubt one of the most memorable cabs of the postwar years. For payloads of up to 16 tons on four wheels this type of vehicle proved to be very economical and was used in all spheres of road transport. Foden four-wheelers were not as numerous as some makes, the bulk of their sales being in the rigid six, rigid eight and artic class.
ERF LV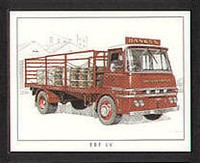 The initials ERF stood for Edwin Richard Foden, who broke away from his family concern in 1933 and began manufacturing his own diesel lorries. Soon becoming one of the leading manufacturers, operators found that ERF produced a no "frills" range that offered ruggedness and reliability, and often remained loyal to the marque for many years. One of the most popular premium heavy duty four-wheelers of the Sixties was the ERF LV. Introduced in 1962, it was light weight and extremely economical, and was used widely in all types of haulage.
Bedford TK
In the 1960s the four-wheeler market was dominated by the mass-produced Bedford TK model. The economical middle-weight TK was seen as a sensational new cab ahead of engine design when launched in 1960. It came in a variety of weights and sizes and found favour with various operators since the model was half the price of some premium trucks, but with a low unladen weight carried just as much payload.
Atkinson L644
From 1958 the Atkinson four, six and eight-wheeled general haulage range were offered with a new fibreglass ( Mk1 ) cab with wraparound screens, although the traditional Bow Front cab continued to be produced. AEC, Cummins, Gardner and Rolls-Royce diesel engines were available and also Perkins units for the lighter models. Atkinson was bought out by Seddon in 1970, forming Seddon Atkinson in 1971.
AEC Mercury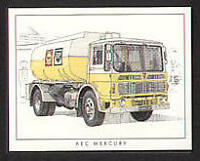 The Leyland designed Ergomatic cab was introduced for the AEC range in 1964 and as a consequence AECs lost some of their individuality. Mechanically though they were still entirely AEC and at the time the overall specification and performance of the Mercury placed it well ahead of any of its competitors. The new tilt-cab Mercury was fitted with AEC's AV505 engine, with the AV471 engine optional and there was a choice of four wheelbase options or a tractor unit.
Thank you for reading my guide and I hope you found it interesting!