Bromeliad seeds are tiny and can be overwhelmed by moss, fungi or mould. Here is one method that works for me. I germinate them in a closed sterile environment the following way.
Sterilise a clear plastic lunchbox or tupperware type container with household bleach solution and rinse with boiled water.
Boil perlite (obtainable from larger garden centres, hardware stores or hydroponics shops) in a clean pot in water as pure as possible for at least 10 minutes.
Boil coir or coco-peat the same way (obtained in compressed blocks from some supermarkets and most garden shops)
Drain off excess water.
Pour the still hot perlite into the bottom of the sterile clear container (about 2 or 3 cm deep).
Cover with a layer of the hot coco-peat.
Pop the lid on to keep out fungal spores etc.
When the mixture is cool, spread the bromeliad seeds on top using only boiled sterilised implements.
Close the lid tightly for 2 or 3 weeks.
Keep the container in a light position but not in full sun or direct sunlight.
When tiny green shoots are showing fertilise once a week with with a half strength solution of orchid food or other soluble fertiliser mixed in clean boiled water. Apply with a sterilised spray bottle.
Remember to replace the lid tightly each time to keep out the nasties and to prevent the young plants from drying out. Always use sterile implements. You could paint the base of the container a dark colour to slightly higher than the mixture level, to discourage moss by excluding light.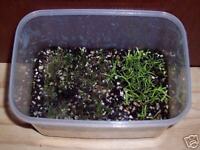 Alcantarea & Vriesea seedlings 6 months old
When your young bromeliads are about 5 cm tall or are too cramped for your container they will need to be transfered to small pots such as the cells used in tomato propogation. Disturb the roots as little as possible and keep clusters of the young plants together to support and shelter each other. They need natural light and air movement now but will be vulnerable to drying out, so mist regularly. Keep moist but not wet. Watch for fungal or moss invasions.