Bubble and Micro Cars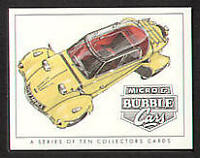 This is one of many illustrated classic car guides I've created for the community. I hope you enjoy it. If you wish to find out more about the classic car art featured in this guide please click here.
The 1950's "Bubble Car" ushered in a new era of inexpensive motoring, three-wheeled micro-cars that could be driven on a motorcycle license and were taxed accordingly. British models were soon added to foreign imports. This guide features some of the most popular and well known.
Berkeley T60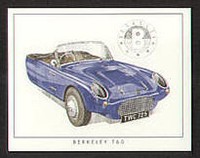 The three-wheeled Berkley T60 effectively became an updated Morgan in the late 1950s. Initially a 4-wheeled sports version, Lawrie Bond modified the rear-end to create an instant success with genuine sports-car ability. The 328cc Excelsior engine gave a possible top speed at 60mph, and 1850 were built in just over two years. The marque died in the late 1960s with the collapse of its parent caravan market but faithful enthusiasts still keep many on the roads using the original moulds as the re-introduced Bandini.
BMW Isetta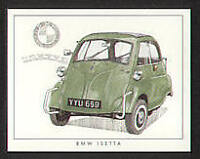 In 1955 Rennzo Revolta sold the manufacturing rights of his unsuccessful bubble car to BMW, and the rest as they say, is history. BMW replaced the two-stroke with their own 247cc single-cylinder 4-stroke. A 295cc engine came in 1956 for export, with different trim and sliding windows. The forward swing door enabled front on kerb parking. Production continued of this popular model, four-wheel for export and three-wheel for home used until 1962.
Fuldamobil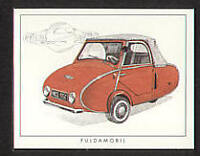 In 1950 Karl Schmitt of Electro-maschinenbay in Fuldz produced his unique Fuldamobil. Built under licence in many countries, this wooden-framed, alloy-panelled bodied micro-car was powered by a variety of engines, from 200cc ILO to 360cc Sachs all with four-speed box and electrical reverse. The two-seater coupe was built along car lines, but with the engine mounted alongside and driving the rear wheel.
Heinkel/Trojan 200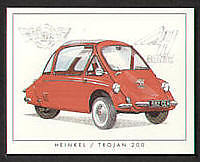 Considered one of the prettiest bubbles, the Heinkel Kabinen entered the German market in 1955. The 175cc four-stroke air-cooled engine gave two adults/two children a top speed of 56mph with 100mpg. Soft-top convertibles were also built, sealing the front opening door and cutting the body to waist height. Production moved in 1958 to Dundalk Engineering in Northern Ireland, and again in 1962 to the Croydon based Trojan Company who with modification, marketed it as the 200 and built some 10,000 units.
Meadows Frisky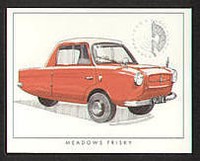 The Raymond Flowers designed Frisky began life as a four-wheeler in 1957. The first three-wheeled "Frisky Three" was powered by a 197cc two-stroke with coil front suspension and rear by pivoted-arm. Both coupe and convertible were offered, with Family Three in 1959 designed for 2+2 children. Production was abandoned in 1964 after the Prince model, which used a 328cc power plant. The design was then taken to Australia to become the Zeta.
Messerschmitt KR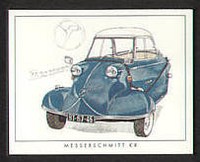 The Messerschmitt is probably the best known microcar, and was designed by Fritz Fend, technical officer of the famous aircraft company. Introduced in 1953, its unique welded steel structure was chassis-less, and had handle-bar steering and twist-grip throttle, which powered a 9hp 4-gear transmission. Over 20,000 KR175's were produced, with further refinement on the more powerful KR200. A variety of cabriolet soft-tops and Plexiglass dome canopies lifted for access to the two-seat tandem cockpit.
Nobel 200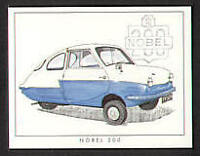 Starting with limited success in 1957 as Fuldamobil's King, this attractive glass-fibre bodied vehicle was then produced by York Noble industries. The Fichtel and Sachs 191cc engine provided some 90mpg at 45-plus mph. Cable brakes to the front wheels only were insufficient for the potential all-up weight, which could provide seats for two adults, a cramped rear bench for kiddies or storage, and a large front foot-well for extra luggage.
Peel Trident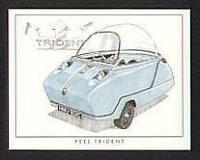 The Trident was a two-seat version of the earlier P50 and used the same 49cc DKW two-stroke. A front-hinged plexi-glass dome provided access to the twin-seat cabin. At just under 6ft long, and with the 5in wheels giving an 8ft turning circle, there was no need for a reverse gear, being light enough to lift the back end for parking. De-misting was a constant problem as there was no airflow inside the cabin.
Zundapp Janus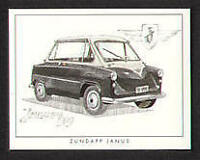 In 1956, Fritz Neumeyer of Zundapp (a previous collaborator with Porsche to produce the legendary Beetle), took out a licence from Dornier for a small 4-seat vehicle named the Delta, and from this developed the Janus 250. The unconventional back-to-back paired seating and similar front and back opening doors made for a more compact symmetrical car. Engine: 248cc single-cylinder 2-stroke, mounted centrally between the seats, with four-speed and reverse gearbox and hydraulic brakes on all four wheels. Top speed with accelerator hard to floor was 50mph.
Thank you for reading my guide and I hope you found it interesting!