Gold Buffaloes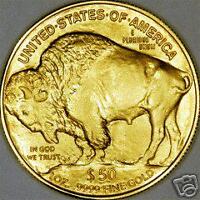 The Gold Buffalo
The gold buffalo is a brand new American pure gold (99.99% fine) bullion coin.
The world's best known and first one-ounce gold bullion coin was the krugerrand, introduced in 1967 by the South African Mint. It proved to be an enormously popular method for small investors to acquire and hold gold bullion.
It was followed by a number of other gold bullion coins, including the US gold eagle, and the Canadian gold maple leaf. Although the US eagles are popular, the Canadian maples are more popular in some areas, usually because it is "fine" gold, 99.9% pure for the early years, and 99.99% pure for more recent dates. It should not logically make any significant difference, as all these coins contain the same amount of pure gold, one troy ounce. The krugerrand, eagle, British Britannia, which are made of 22 carat (karat) gold (91.66& pure), are 1/11th heavier than their fine gold competitors, the extra weight being almost entirely of copper, sometimes with the addition of vary small proportions of silver to give a yellow rather than red colour.
The US mint realised that it needed a direct competitor to the other fine gold coins, which also include the Austrian Philharmoniker, and the Australian Nugget, and the Australian Lunar Calendar series. Accordingly, it introduced the gold buffalo, which was first released on 22nd June 2006.
One Size Only
The gold buffalo is being issued only in a one-ounce size unlike most of the other gold bullion coins, which are also issued in half ounce, quarter, and tenth ounces. Some are also issued in fifth, twentieth, twenty-fifth ounce sizes, and the Australian coins also in two ounce, ten ounce, and one kilo versions.
U.S. Gold Buffalo Fine Gold Coins
On the 19th April 2005, we stated on our "Tax Free Gold" website that the awaited one ounce fine gold bullion coin to be issued by the United States Mint looks likely to be called a buffalo, with an Indian head similar to 'buff' nickels. The release date is scheduled for June 2006.
We were delighted when we received our first shipment. These are very attractive coins.
The following is an extract from one of our pages.
Design Details
New American Buffalo 24-Karat Gold Coins
The United States Mint is pleased to introduce its new line of 24-karat gold coins.
Production of these highly anticipated coins is authorized by Public Law 109-145, dated December 22, 2005, also known as the Presidential $1 Coin Act.
The new American Buffalo Gold coin's obverse and reverse designs feature images originally prepared by noted American sculptor James Earle Fraser, once a student of Augustus Saint-Gaudens, for America's 5-cent coin (nickel).
That popular coin, known as the Indian Head, or Buffalo, nickel was introduced in 1913 and showcases the native beauty of the American West.
The Native American depiction on the coin's obverse is believed to be based on three different Indian chiefs – two of whom were named by the designer as Chief Iron Tail and Chief Two Moons – who modeled for Fraser as he sculpted its design. Conflicting statements exist on the third Indian as being either Chief John Big Tree of the Onondaga tribe, or John Two Guns, son of White Calf. It is widely believed that the bison on the coin's reverse was modeled after "Black Diamond," a popular attraction at the New York Zoological Gardens.
In the first year of the coin's issuance, 1913, there were two distinct varieties, the first showing the bison on a mound and the second with the base redesigned to a thinner, straight line. American Buffalo Gold Coins bear the original Fraser Type I design. <p>
United States Mint American Buffalo Gold Bullion Coins
American Buffalo Gold Bullion Coins are the first .9999 fine 24-karat gold coins ever struck by the United States Mint and offered for sale through a network of Authorized Purchasers. These $50 gold coins will be available to members of the public seeking a simple and tangible means to own and invest in 24-karat gold in the form of legal tender coins whose content and purity is guaranteed by the United States Government.
American Buffalo Gold Bullion Coins will be available at many coin and precious metals dealers as well as many brokerage houses and participating banks. Pricing for precious metal investment coins typically depends on the market price of the metal.
United States Mint American Buffalo Gold Proof Coins
The United States Mint will produce a proof version of these coins for collectors. The term "proof" refers to a specialized minting process that begins by manually feeding burnished coin blanks into presses fitted with special dies. Each coin is struck multiple times so the softly frosted and highly detailed images seem to float above the field.
An official Certificate of Authenticity will accompany each coin. American Buffalo Gold Proof Coins will sell at a fixed price and can be purchased directly from the United States Mint.
Product Information
All 24-karat American Buffalo Gold coins will be struck at the United States Mint at West Point . The 24-karat American Buffalo Gold Bullion Coins will be minted and sold in the same manner as American Eagle Bullion Coins .
Was This Guide Useful?
If you found this guide interesting, informative or useful, please spare few seconds of your time to vote for it by clicking on the "Yes" button below, thanks.

Other Guides
You may be interested in viewing our other guides:-
London Gold Fixing Price

Gold Bullion Bars For Investment

How to Photograph Coins - Advice, hints, tips & more...
1780 Maria Theresa Silver Thaler Restrike Trade Coin

Krugerrand - One Ounce Investment Gold Coin

Gold Sovereigns - History Information & Specifications

Mints & Mintmarks on Gold Sovereigns - All Seven Mints
Pink Diamonds - One of Nature's Rarest Gemstones
Sniping - Is it Good Strategy for Winning Auctions?
£2 Two Pound Coins Queen with Necklace Rumour & Facts
Winning Auctions - Or Spending Money?
CGT Capital Gains Tax Exemption on Gold Sovereigns Britannias UK Coins
Definition of Investment - VAT Exempt (Tax Free) in UK & EU
Spellings - Is Good Spelling Important - A Few Howlers
Gold Coins Which Are Not Gold - Including German & € Euros
Postage Packing Shipping Insurance Charges - Fair or Excessive?
The Difference Between Proof and Uncirculated Coins
Author
This guide has been contributed by Lawrence Chard of Chard Coins. Most of our information is drawn from official US Mint or US government sources. Any opinions are our own. Please contact us if you notice any errors or omissions on this page.
We hope you find this guide interesting and informative.