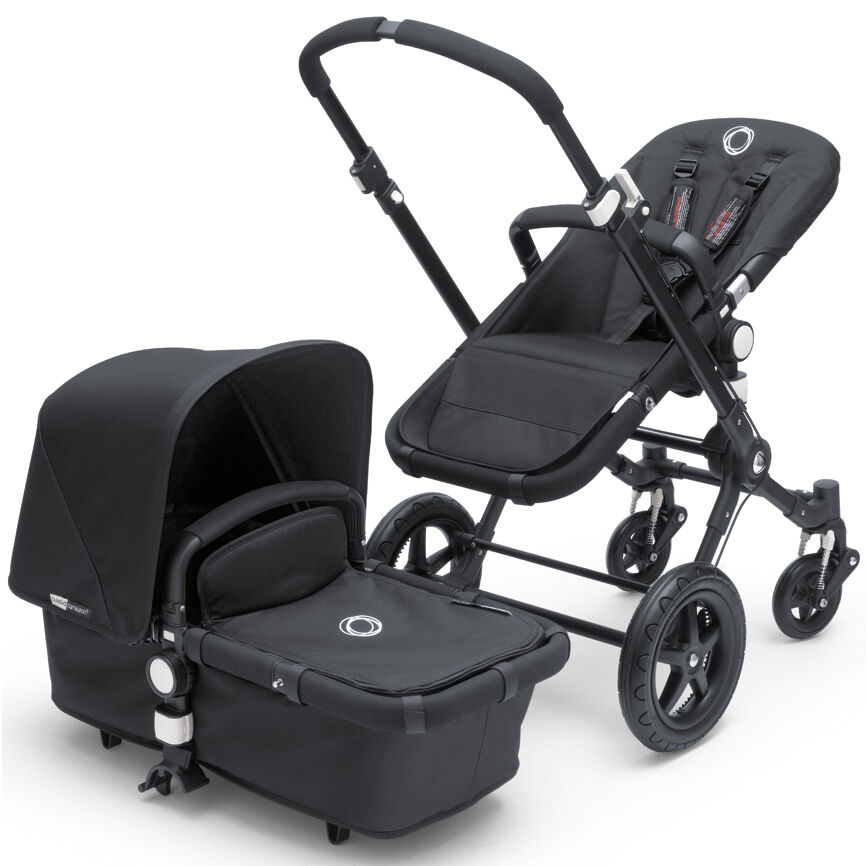 Most children require more than one stroller, because a child often grows out of one and into another. Bugaboo manufactures strollers that grow with the child, allowing a parent to modify the stroller as the child's needs change. Bugaboo is one brand of stroller that can go just about anywhere, whether it be a shopping centre, the beach, or a hiking trail. Parents often find it challenging to shop for the right stroller. Afterall, there are so many to choose from. A shopper should evaluate the different types of strollers first then choose the Bugaboo stroller that best meets the needs of her child.
Types of Strollers
Stroller manufacturers often produce a variety of different types of strollers. A shopper must decide which type of stroller best suits the current and growing needs of her child. The table below describes the four types of strollers.
| | |
| --- | --- |
| Stroller Type | Uses |
| | Lightweight stroller that folds down to a small size and takes up very little room; weighs less than the traditional stroller; has fewer features than other strollers; best suited for quick trips |
| | Comes with larger tyres for use on a variety of surfaces, including unpaved tracks; ideal for walks on beaches or along hiking trails |
| | Grows with the child; converts into a carriage; can accommodate a compatible car seat; adjusts for seating a larger toddler in the upright position |
| | Grows with the family; converts from a single stroller to a double stroller; accommodates two infants or a toddler and a sibling close in age |
Before selecting a Bugaboo stroller, a shopper must determine which type of stroller best suits the family's lifestyle. Rather than choosing a stroller based merely on appearance, a shopper needs to evaluate how she plans to use the stroller day to day. For a parent who plans on taking her child to the shops regularly or to other crowded public areas would do well to invest in a compact stroller that is easy to manoeuvre around other people and up and down narrow aisles. The family who spends a lot of time outside is better off with an all-terrain Bugaboo stroller made to handle more diverse outdoor settings.
Bugaboo Stroller Models
Since Bugaboo entered the stroller market in 1999, it has released several models of strollers. Each model offers different design features. Known for their simple designs and solid colours, Bugaboo strollers have a sleek looks about them. Bugaboo names each of its strollers after an animal, though the strollers do not resemble these animals in appearance.
Bugaboo Cameleon
The Bugaboo Cameleon is a three-in-one stroller that accommodates a car seat, and has features like a reversible bassinet, and a reversible seat. The seat reclines to three different positions, offering a child a comfortable ride whether sitting up or lying down. The 12-inch wheels make it easy for parents to negotiate uneven surfaces. The adjustable wheel suspension affords baby a smooth ride even along a rough, unpaved walking trail. The adjustable seating allows a parent to either position the baby facing the parent, or position the baby facing forward.
Bugaboo Frog
Discontinued in 2010, the Bugaboo Frog has a similar design to the Bugaboo Cameleon. The Bugaboo Frog is slightly larger than the Cameleon stroller, but features the same wheel suspension and large 12-inch wheels. Another difference between the two is that the Frog does not have an adjustable handlebar. The Chameleon is the updated version of the Frog. Because the Frog is the precursor to the Chameleon model, it is cheaper.
Bugaboo Bee
Though not classified as an umbrella stroller, the Bugaboo Bee is an ultra-compact stroller, measuring just 45 cm wide when in its folded position. Weighing just 8 kg, the Bugaboo Bee is easy to fit in a car and one can operate the stroller with just one hand. The foam-filled rubber tyres with their independent suspension ensures baby experiences a smooth ride regardless of the type of paved surface. The adjustable handlebar makes it comfortable for parents of all heights to push baby. Baby rides comfortably in a seat that one can adjust as baby matures from newborn to toddlerhood.
Bugaboo Donkey
The Bugaboo Donkey adjusts to fit the needs of families with two children. No matter if the family has one baby, an infant and a toddler, or twins, the stroller adjusts from a mono stroller to a duo stroller in just a few clicks. The seats recline independently so that one child can sleep while the other sits upright at the same time. There is generous storage underneath the seats for storing nappies and other baby essentials. As a mono stroller, it has an additional storage compartment that sits next to the seat for holding toys or other gear. As with other Bugaboo strollers, the Donkey has independent suspension and a handlebar that one can adjust for height.
How to Buy a Bugaboo Stroller on eBay
eBay offers a huge selection of baby strollers as well as several great deals on Bugaboo strollers. Start with a basic keyword search to find all listings for Bugaboo strollers. Select options such as type, colour, and price range to find the right stroller for your child's needs. Be sure to check out eBay Stores for additional items and accessories to go along with your Bugaboo stroller. Before making a purchase, read the description, view images, and scrutinise the seller's feedback rating. No matter what your stroller needs are, eBay provides a large selection of stylish Bugaboo strollers appropriate for urban and suburban living.