Wise use of Ebay's powerful search engines gives access to great telephone items worldwide. But deciding on a theme frees the buyer from 'needing' everything they see; facilitating the best use of spending power .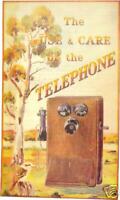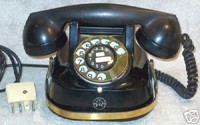 Themes can include
bakelite telephones
,
wooden phones
,
historic components
tracing telephone development,
novelty telephones
, and even
toy phones
. Others might be
old telephone advertising
and
manufacturers' catalogues
or actual
telephone directories
, which provide rich social-history about the lives and times of people who used and made telephones.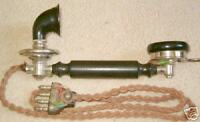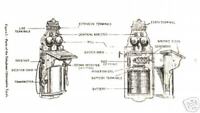 Having decided on a theme it is a good idea to do some research.
Ebay's
advanced search
page can view
completed auctions
, as well as current ones. Imaginative use of search terms can indicate what the pieces you like should fetch in the market. Beware of one-off's where competition has pushed the price up unnaturally high. If things that interest you don't come up often this might suggest they are better investments. (However, try and link with reliable telephone collector associations - use a search engine- before launching into large-scale spending!)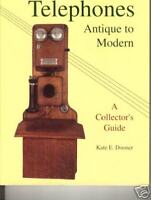 Know your phones!
There are many helpful, inexpensive, modern
books
(such as those illustrated) - most of which turn up on Ebay eventually. As well, the serious, historical collector (or the investor) might want to gather up some of the beautiful, though expensive, early textbooks and phone company instructions etc.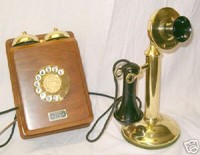 With experience, a collector's interests tend to narrow.
A good collection is one which has depth and quality- not just a broad selection of miscellaneous objects!
So why not
sell
items that don't directly fit the theme. Even if a loss is made, the experience is worthwhile and the money can be used to upgrade!
Don't be scared to learn some skills in restoration either.
Incomplete items can be cheaper, and with a good telephone knowledge base and contact network, the missing
part
can be tracked down on Ebay.
Finally, a word on the home decorator market.
Original phones or accurate, restorations are for the serious collector or investor. The 'home decorator' however is far more concerned with art and appearance than authenticity. There is usually a lot of polished brass, and dials may be fitted for contemporary use. These phones are not usually completely genuine. The art aspect calls for originality and creativity in blending old and reproduced parts to give the desired 'look', and if done well they can actually be worth more than unrestored originals. But try and decide from the photos, and questions to sellers, how just well the work has been done! Your telephone interests can give a lot of pleasure, and be profitable investments. As with all collecting, there are risks. However knowledge and networking minimise these.
Ebay offers enormous potential to develop the type of telephone collection you want , if worked with care, patience, and growing knowledge!