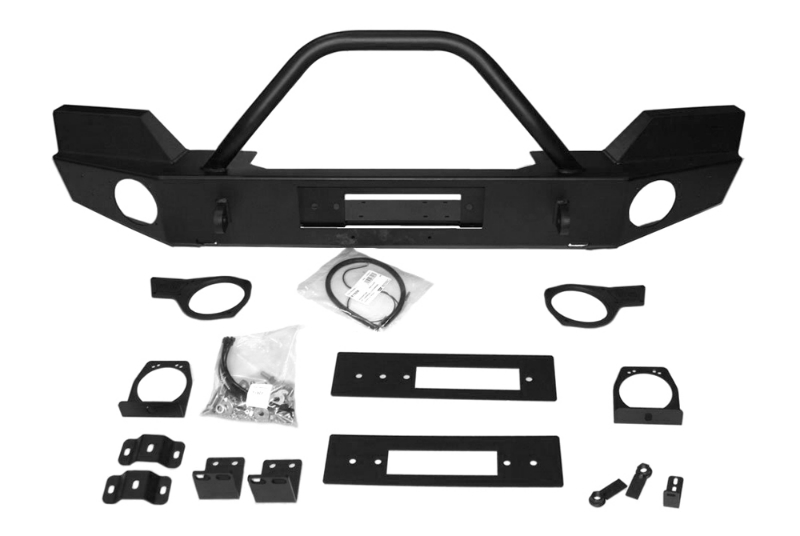 Bumper bars were first developed to protect cars and trucks from scratches and dents caused by large rocks. The bars are a series of metal or plastic tubes that are moulded and welded together to cover the more vulnerable spots on the front or back of a vehicle. Bumper bars can also provide enough protection during a collision that a car or truck is still drivable. Research is the best way to determine whether a bumper bar is appropriate and which type is the best option. Look at the types, material, and additional features of these accessories in order to buy the right one. A bumper bar can be bought from car manufacturers, auto stores, and listing sites like eBay.
Types of Bumper Bars
Bumper bars are designed to provide protection for the front or back bumper of larger cars, 4x4s, SUVs, and trucks. The bars were designed initially to protect from heavy shrubs and rocks encountered while driving through rough terrain. They can also stand up to the impact of a large animal and help protect the front of the vehicle from damage. Some bumper bars are designed to deflect rocks and debris that may fly up from the road to keep the paintwork from being dented or scratched.
Bumper bars can consist of just one small bar stretched across the bumper or a more complex series of tubes that cover the entire grill and headlight system. Bumper bars are designed to attach to a car or truck using factory preset holes in the vehicle's bumper. This means that it is important to search for bumper bars by the vehicle's make, model, and year in order to get the right fit. There are several types of bumper bars. The best type depends on where most of the driving is done, what the vehicle is typically used for, and personal taste.
Bull Bars
Bull bars are designed to protect the front of a car or truck from curbs and rocks. They protect the bumper and the lower half of the grill. Bull bars are less visually dominating on the front of a car or truck. They consist of one inverted U-shaped tube with a crossbar along the bumper, and are usually made of steel. Bull bars may come with skid plates.
Skid Plates
A skid plate is a tough sheet of steel welded to the bottom of a bull bar that helps provide further protection for the front bumper from pebbles and debris that may fly up from the road, and larger rocks. Skid plates can be removable or permanently fixed to the car or truck, depending on the brand.
Centre Grill Guard
The centre grill guard provides rugged protection only for the front centre of the car or truck. It is a roughly square shape of tubes with crossbars designed to protect the entire grill and the front of the bumper. They are intended to protect against a front impact with an animal, such as a kangaroo. Some centre grill guards come with extra lights.
Full Grill Guard
The full grill guard is the most impressive of the bumper bars available for the front of a car or truck. It provides complete front end protection of the bumper, grill, headlights, and even the sides of the vehicle; it guards against front and side impacts. It consists of two centre uprights of tubes to protect the grill, with two cross bars that extend across the entire front end and wrap around the sides of the headlights. Full grill guards provide the most protection for the front of a car or truck and are popular for off-road driving or travelling around a ranch.
Rear Bumper Guard
The rear bumper guard is a steel tube that wraps across the entire back bumper. It is great for protection in urban environments where a car or truck may be in a rear-end collision or accidentally hit another vehicle while parallel parking.
Materials for Bumper Bars
Bumper bars are available in a number of materials, such as aluminium, steel, polycarbonate, and polyethylene. Each of the materials offers different levels of protection, depending on the circumstances of the car or truck. For example, steel bumper bars are more rigid and do much more to protect a vehicle from impact with a large wild animal. Polycarbonate and polyethylene are more flexible and safer for pedestrians in case of an accident when driving in urban areas.
Material

Description

Example

Iron alloy

Corrosion resistant

Easy to clean

Low maintenance

Durable

Hard

Recyclable

Aluminium

Metal

Corrosion resistant

Lightweight

Malleable

Soft

Recyclable

Polycarbonate

Plastic

Lightweight

Strong

Impact resistant

Heat resistant

Recyclable

Polyethylene

Plastic

Lightweight

Cheap

Stiff

Strong

Resists oils, gas, and acids

Recyclable
The most commonly used materials for bumper bars are steel and aluminium. Synthetic materials are used increasingly for both bumper bars and grill guards for original manufacturer parts for trucks and 4x4s. Polyethylene and polycarbonate bumper bars are designed to act like a spring helping to deflect large animals and people off the vehicle and causing them less damage.
Accessories for Bumper Bars
Bumper bars can support additional accessories to make them even more useful for a driver. These accessories include extra lights, a radio antenna, and winch plates. Additional lights are useful for driving at night or searching for lost farm animals in heavy shrubbery. Radio antennas are typically mounted on the bumper bars affixed to various vehicles where the driver needs to communicate with others, such as park rangers or owners of large amounts of land. Winch plates are sturdy plates welded onto a bumper bar that can serve as a mounting spot for a winch on a truck.
How to Buy Bumper Bars on eBay
You can find bumper bars on eBay listed by a number of dealers and individual sellers. These products can be found in any condition from new to used. To search for bumper bars, use the eBay search engine, which is available from any page on the website. Simply type in keywords that describe the type of bumper bar that you are looking for, or search for brand names or materials. For example, type in "ARB bull bar" to find a product for a particular brand. You may also try searching for exterior car parts in the eBay Deals section. This section is filled with items handpicked by eBay that have excellent features, such as low prices or free delivery. Read the item description carefully to ensure that the bumper bar fits the make, model, and year of your vehicle.
Conclusion
Bumper bars are popular accessories that protect the front and back of a car or truck from minor damage cause by dirt and debris, scratches from shrubs, and even the impact of a wild animal, such as a kangaroo. Bumper bars attach to a car or truck using the preset factory holes in the vehicle bumper. There are several types of bumper bars to choose from. The full grill guard provides complete protection for the front end, grill, headlights, and sides of a vehicle. A bull bar is a less prominent accessory that only covers the front bumper and part of the grill. Bumper bars are made from a variety of materials ranging from steel to polyethylene. Bumper bars can also serve as a mounting platform for accessories like lights and winches. Bumper bars can be purchased from a range of eBay sellers.
Bumper Bar|Bull Bar|Skid Plate|Centre Grill Guard|Full Grill Guard