Buses In Britain 1950s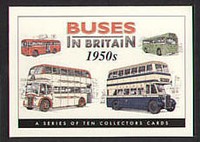 This is one of many illustrated classic British bus guides I've created for the community. I hope you enjoy it. If you wish to find out more about the classic British Bus art featured in this guide please click here.
This guide features a number of classic British buses from the 1950s.
AEC Regal 1 ( Alexander-Northern )
The Associated Equipment Company had its beginnings in the London General Omnibus Company, but since 1912 had been a separate commercial business. Although AEC was still the main supplier of bus chassis to London Transport, it built up a substantial business building trucks and buses for customers in the UK and overseas before it merged with Leyland in 1962. The classic AEC Regal 1 was introduced in 1946 with a 7.7-litre engine and crash gearbox.
Bristol L ( West Yorkshire )
The LL version of the Bristol L chassis was 30ft long and was introduced in 1950-51. Engine types provided the various classifications - the LL5G featuring a Gardner 5LW engine, the LL6G coming with a 6LW unit from Gardner, while a Bristol six-cylinder engine powered the LL6B vehicle. One of the "red" Tilling fleets, West Yorkshire were based in Harrogate and operated in both west and north Yorkshire. Other notable LL5G operators included United Countries, Southern Vectis and Crossville.
Bristol K ( Hants and Dorset )
If there was a standard post-war double-decker, it is surely the Bristol K type with ECW Series bodywork. In its Gardner, AEC and Bristol-engined variants (K5G, K6A, K6B), a total of 136 were taken into service between 1946-50. The Bristol K6A TD876 (HLJ25) was purchased new by Hants & Dorset in 1949, but one of many of this type diverted, temporarily and without fleetnames, from Tilling Group companies to London Transport. It did not reach the sunny south coast until March 1950.
Bristol Lodekka LD ( Western National )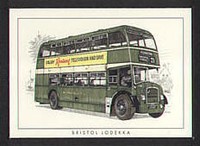 Bristol were the first to dispense with the awkward sunken gangway arrangement of the traditional lowheight double-decker, introducing its revolutionary Lodekka model in 1950. The LD, which replaced the K-series had a 16ft 8in wheelbase and a width of 8ft. Engines were Bristol AVW, Gardner 5LW or Gardner 6LW, model designations being LD6B, LD5G and LD6G respectively. The LD6B/ECW 60-seater was obtained by the West Country operator Western National, part of the Tilling group of companies. The Bristol/ECW Lodekka model was the Tilling Group's main double-decker for more than a decade.
Bristol MW ( Royal Blue )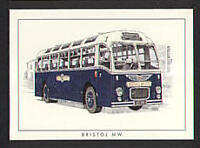 The Bristol MW (Medium Weight) was the standard underfloor-engined Bristol single-decker for the late 1950s and early 1960s, replacing the semi-integral LS which had been in production since 1950. The MW was only available with Gardner 5HLW or 6HLW engines, being designated MW5G and MW6G respectively. Produced in both bus and coach form, every major Tilling bus company, except Brighton, Hove & District received the Bristol MW, almost two-thousand examples being built.
Guy Arab Mk IV ( East Kent )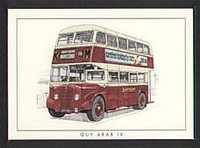 In 1940 the Ministry of Supply contracted Guy Motors to produce a double-decker to utility specification, the result being the Arab Mk I of which 500 were built. As a rugged, unsophisticated chassis, the Arab placed the Guy among the country's leading bus manufacturers. East Kent built up a fleet of Mk 4s Arabs with Park Royal bodywork between 1952 and 1958. The bus shown is a one-off prototype dating from 1952, which had bodywork built by Guy.
Guy Arab Mk 4 ( Chester Corporation )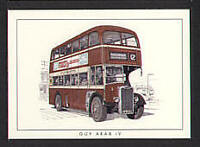 The Guy Arab Mk IV double-decker chassis went into production in 1951 and although a large number of Mk IVs were fitted with concealed radiators some retained the exposed type in the same style as the Mk III. Chester used Guy Arabs for a lengthy period, buying 47, mostly Massey-bodied, between 1953 and 1969. Production of Guy vehicles ceased in 1968 following a takeover by Leyland.
Leyland Titan PD2/1 ( Southdown Motor Services )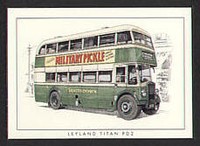 The legendary Titan is probably the bus for which Leyland is best known. Introduced in 1927 it was produced continuously (apart from a two-year wartime break) until 1969. The Titan PD2 was first seen in1947 (the PD1 model had been introduced in 1945) and these were sold in large numbers to a wide variety of operators. 80 Leyland LD2/1 were employed by Southdown Motor Services in 1948/49. It lasted in service until 1969.
Leyland Olympic ( King Alfred )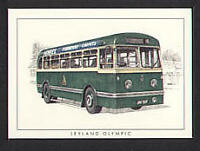 The Leyland Olympic single-decker was introduced in 1949 in conjunction with MCW as an integral underfloor engined alternative to the Tiger. designated the HR40 Olympic (40 denoting the seating capacity) it used a horizontal version of the 0.600 engine. In 1951, when length regulations were relaxed to allow 30ft single-deckers on two axles it became the HR44, a 44 seater.The Leyland Olympic HR40 formed part of the fleet of the well known Winchester independent, King Alfred Motors.
Thank you for reading my guide and I hope you found it interesting!