Vintage sewing patterns can be sewn using traditional fabrics for a retro look or using modern fabrics to create unique fashions in a classic style for guaranteed one-of-kind outfits that will have heads turning and leave you the envy of your friends.
Enliven your wardrobe using vintage sewing patterns and your sewing skills.
Garment making is making a huge comeback with young people everywhere and beginners should try a simple pattern such as a skirt, apron or shirt before trying advanced patterns such as coats and other outfits with pockets and lining. Its never too late to start learning sewing skills.
TIPS FOR PATTERN CUTTING
Multi-size patterns can easily be reused when traced onto tracing paper or velum allowing the pattern to remain intact for use in other sizes.

Cut fabric on a hard, flat, clear surface - not the bed.

Screwed up and unruly folded pattern paper can be flattened when ironed under fabric on low heat.

Ensure you cut on the nap or bias for fabric that will show the direction of the grain then mark the fabric where indicated on the pattern for front and back alignment and the placement points for darts, buttons and zippers.

When marking fabric use a wash-away or erasable pen never a biro, lead pencil or permanent marker. Test all marking pens on the fabric before use. Wash-away pen ink will set and become permanent when heated so don't iron or press marked fabric. Traditionally chalk would have been used to mark fabric.
Choose the best quality pins, sewing needles, threads and scissors to achieve trouble free sewing with the highest quality finish for longer lasting garments.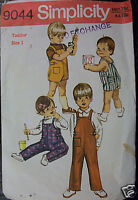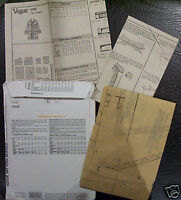 POINTS TO CONSIDER WHEN BUYING A VINTAGE SEWING PATTERN
Uncut sewing patterns can be purchased on eBay. The outer envelopes often show signs of age and wear but are ready to cut into any size and will contain sewing instructions if also unopened.

Used patterns need to be checked for completeness against the instructions to ensure you will be able to finish the sewing project. Check what size the pattern has been cut to – allowances will need to be made if you want a larger size. Other evidence of use = pin holes.

Fabrics come in two widths (115cm and 150cm) and patterns specify a different set of measurements for each width.

Pre-1970s patterns will be use Imperial units that will need to be converted so you will know how much fabric to buy.
1 yard = 3 feet = 0.9144 metres
Sizes for pre-1970s patterns will be smaller than modern sizes and you may need a size or two larger to get the correct fit.

Early vintage patterns are not printed on and appear as blank sheets of pattern paper with punched holes and stamped to indicate the different pieces. They are not multi-size and come ready cut in the indicated pattern size.

Check to see if any special materials are required to complete the project e.g. shoulder pads
Since you've read this far I'm sure you found this guide useful so please vote!