As a buyer, the prospect of having an item created specifically for you can be very exciting. Some buyers however feel daunted by commissioning artists/crafters to create their ideal item. This guide is specifically targeted to the prospective buyer who has considered commissions but not sure exactly what it is involved.
Over the years I have created a good many products for customers:
Commercial Signs/Menu Boards
Private Murals
Fine Art paintings
Jewellery and accessories
OOAK Sculpted Art Dolls
Graphic Design
NOTE: All artists go about commissions differently, this is a guide only
1. FIND YOUR ARTIST
The first step is to find an artist that meets your needs – always keep in mind the style and subject matter you are after. If you are after a figurative artwork you aren't going to request it from someone who only creates landscapes.
Once you have found an artist you like you will need to make sure they are available to undergo commissioned work at the time, some may have a lot of work going and you may be added to a waiting list or have to contact them later.
Not all artists/ crafters take on commissions so you will need to find out this too.
2. CONTACT THE ARTIST
Next you need to get in touch with them, via email or phone them for an appointment (if local)
You will need to provide as much detail as is possible, simply stating that you want a painting of a faery sitting on a mushroom is not enough detail. The more information you provide, the more likely you are to get what you want in a reasonable timeframe. Otherwise you may end up with something that is not what you visioned.
3. CONTRACT
Once all details have been decided upon such as size, medium etc the artist may provide you with a contract. Not all artists have contracts but it is a good idea that way you both know what is going to be involved, what the total costs will be and how long it is going to take to get it all done.
What is going to be involved, what the total costs will be and how long it is going to take to get it all done.
(below) The Crystal Healer - Commission in mixed media for private collector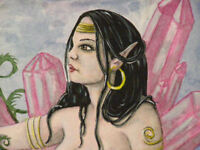 4. PRELIMINARY SKETCHES
By now you will have seen a contract and agreed to the costs and time frame, at this time you will have been asked for a deposit. Not everyone asks for a deposit but the majority do. A deposit could be a cash amount or percentage of the final price.
This is where the work begins, it could be viewing thumbnail sketches of artworks, a jewellery design etc. It may be materials to be used coloured fabrics,beads etc. This will need to be approved by you. If you are not happy then say so, now is the time to make it clear. You may ask for changes, what ever you need to get it the way you want it is crucial at this stage. An artist would much prefer spend a little more time at this stage then later on when changes may prove very time consuming or costly.
5. FINAL WORK BEGINS
Once all preliminary work has been approved by you including all the changes/additions you have requested. Work will begin on the final product.
I can not stress how important it is to make sure all the preliminary work has been approved, at this stage changing even the smallest of detail can be an issue. If you paid a deposit and you back out once the final work has already begun you may risk losing part or all of your deposit.
This again is something that not every one has, many might refund your deposit in full with no worries.
Make sure you read over your contract before paying deposit and agreeing, if it has not stipulated in the contract regarding refunds and deposit, ask and have the contract re done with these details included.
6. FINISHED ARTWORK
Congratulations, you will have seen the finished artwork/necklace/bag etc. now is the time to pay the remaining costs including shipping if applicable.
All done now you just need to wait for it to be delivered.
Not so bad now was it?
Do's & Don'ts of Requesting a Commission:
DO read over your contract carefully
DO request additional details if unclear
DO make all changes BEFORE final work begins
DON'T approve any preliminary work if you are not entirely happy
DON'T pay a deposit if you are not in agreeance with the contract
DON'T assume the artist/crafter knows what you want – be detailed and clear
Finally, once you have purchased it and own the artwork etc remember you only own the finished piece and nothing else. You do not own any copyrights, licensing or printing rights to this.
I hope that this guide has proven useful and takes some of the mystery out of commissions for any prospective buyers in the future.
Commissions are very rewarding and exciting for the buyer as well as the seller. Don't feel intimidated by the whole notion – get out there and get what you want done, you do not have to settle for something that is sort of what you want.