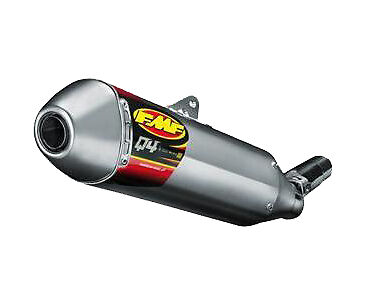 Though mufflers serve the purpose of reducing engine noise, they have become an accessory for many KTM Husaberg motorbike owners. To enthusiasts, motorcycle mufflers speak volumes. They also impact style, especially when coated in chrome. Mufflers can also be considered performance enhancers. Many factors can affect which components are "the best."

Purchasing a New Muffler for a KTM Husaberg Motorbike
Adding any parts to a motorbike can be a daunting task. Components can be expensive, so care must be taken to make the best decision possible. Look, feel, and even sound factor in, as well as function. Before switching out a muffler for a different model, motorbike owners should consider the following:
Muffler Position
Large mufflers have been known to melt pants when poorly positioned. This happens because the protective side panel that covers the stock exhaust has to been omitted to accommodate for something too big for the bike's frame to handle. Buyers have to decide whether the large muffler's overall attributes outweigh the side panel cover's absence. If not, there are smaller mufflers which present a better physical fit. Having compatible parts on a motorbike doesn't mean a rider has to abandon the look they're aiming for. Finding a part on eBay that matches in style and function can be easy with the thousands of products available. Sellers will be able to help you determine whether a muffler will fit on your bike correctly or not.
Exhaust Noise
The noise from the exhaust is a big factor when choosing large motorcycle mufflers, though this is not to everyone's taste. Some enjoy more noise, while other riders try to keep things as quiet as possible. This plays a large role in component selection. In addition, local authorities often set noise mandates that should be considered before purchase.
Muffler Finishes
The muffler's appearance has a big impact on the overall style of a bike. Some of the common options for finishes include chrome, stainless steel, nickel, and perforated finishes with texture. Buyers should compare the impact different finishes have on their bikes before making a final decision.
OEM Parts or Aftermarket
OEM (original equipment manufacturers) motorcycle mufflers have a big advantage over aftermarket mufflers. They're made to measure and compliment the rest of the exhaust system, resulting in optimum performance. However, some aftermarket mufflers offer better engine and power efficiency than the manufacturer's parts. Thoroughly check out reviews and specs on aftermarket muffler parts. Researching and inquiring from the manufacturers will help, but shoppers should attempt to get opinions from people using the part on the same kind of bike when contemplating motorcycle options.
Used or New Parts
Buying a Husaberg parts, then closely inspecting the part's condition is a must. Obviously, there are some mufflers that are well past their useful life. For those who aren't sure, asking a trusted and knowledgeable friend to help go through auctions is a good choice.

How To Buy KTM Husaberg Mufflers on eBay
eBay has a wide range of Husaberg motorbike mufflers. To find one, enter relevant keywords, like "KTM Husaberg muffler" or "used Husaberg muffler," into eBay's search bar, or go to eBay Motors and do a parts search by make and model. Alternatively, users are able to browse through various categories and sub-categories for the products of their choice.
To effectively choose the right product on eBay, buyers should pay special attention to listing details. Shoppers should request more photos or information when needed. eBay encourages this for tracking and dispute resolution, should any problem arise. Trustworthy sellers won't have any problem responding to legitimate questions.

Conclusion
Shoppers can switch up the style and performance of their KTM Husaberg by purchasing new (or "like new") used mufflers on eBay. Checking for compatibility is of utmost importance, as is making sure the seller of an auction is trustworthy before completing a sale.