Our nails are a reflection of our personality. Well-groomed, healthy nails complete your look and add confidence. When you buy a manicure set, think of two things: What Quality? and What Contents? Your answers to these questions will help you to choose a manicure set that is right for you.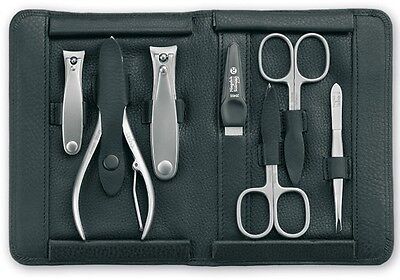 Quality Means Everything

The most important aspect is the quality of the implements.

The best manicure sets are made of high quality steel that keeps implements sharp for many years without blades becoming blunt.

Today, the majority of manicure sets come in rust-proof stainless steel or plated with chrome or nickel that provide corrosion protection. Further, impeccable precision as well as sharpness is of the utmost importance as it allows you to cut your nails perfectly in seconds, without leaving uneven edges and without exertion.

There is nothing worse than having torn nails and cut skin when you are trying to get a beautiful and neat look to your nails.

Unfortunately, there are so many cheap, low quality manicure sets with misleading claims on the packaging that it is easy to believe that they can do just as good a job of nail care. Be careful though because they are often made to imitate the look of famous brands but miss on quality. Made of low grade steel (even if it is stainless steel), they quickly lose their cutting properties just after a few uses often leaving jagged nail edges. Add to that the need of frequent re-sharpening or replacement, and you will soon find out that instead of saving, you are actually wasting your money. So it is worth paying an extra dollar to buy a more expensive manicure set with uncompromised quality that will serve you many years.

All manicure sets at our eBay store - GermanManicureSets_com_au - are made in Solingen-Germany and have an excellent reputation around the world. Once you try any of our German manicure sets, you will know why paying more is actually a smart investment. To put it simply - a good quality manicure set makes an immense difference with nail grooming.

The quality of the case is also very important because it protects your implements from dirt and damage. Cases for top quality manicure sets are usually made of genuine leather and have special compartments for each tool to guarantee durability and reliable protection of your nail tools, regardless of where you store them, e.g. in your handbag, in a bathroom or in your car.
Manicure Set Contents
Most people prefer to take care of the entire nail, including the cuticle and the nail edge. The cuticle tissue is softer and thinner than the nail blade, and therefore requires different tools. The more complete set you buy the better, as it will provide you with the instruments to care for different parts of the nail.
You also need to determine the purpose of the set based on your manicure needs. For example, you may want to buy a set that also contains an implement for toenails, such as a clipper or heavy-duty nipper. These items are often included in the manicure sets for convenience as the majority of people take care of both finger and toenails and it may be worth having all of the tools in one place.
Sets are designed to cater for different tastes. That is why there is a great variety of manicure sets in terms of what's inside the case. Some people prefer to cut their nails using scissors, others – a clipper or a nail nipper. Some like to remove their cuticle using a cuticle nipper, others – with cuticle scissors. This is personal choice and it is important to choose a set with tools that you are comfortable with.
Another thing to think about is whether you have natural or artificial nails. For artificial nails the instruments should be stronger, while natural nails need more gentle tools because they are much more sensitive. For example, if you have artificial nails, make sure that your manicure set includes an appropriate nipper and a file with the correct grit grade.
Now let's look at the common instruments that usually come in manicure sets.
For nails:
Cutting tools: nail scissors, clippers or nail nippers
Shaping tools: nail files
Polishing tools: nail buffers.
For the cuticle:
Cutting tools:
cuticle nippers, cuticle scissors, cuticle knives.
Various cuticle pushers and cleaners.
For removal of tiny hairs on hands and face:

Tweezers.
The RIGHT Manicure Set For You
Leading manicure brands, such as Niegeloh-Solingen, have thought of individual preferences and produced manicure sets that have a combination of different implements, so everyone can find a set that contains the most suitable and convenient tools for them.

Certainly, there are many other variations and more specialised tools can also be included. For example, scissors for in-grown nails, shaving razors, or black head remover for the face. There are as many options as there are personalities. In short, always choose the set that provides you with a variety of implements that you can use without any exertion and that you are most comfortable with. This will minimise the risk of cuts and make the process of nail grooming enjoyable.

The look of your nails is a reflection of the quality of your manicure set.

For beautiful and naturally attractive nails, select your perfect manicure set from our beautiful collection at our eBay store: germanmanicuresets_com_au.