Vintage Original Australian Daybill Movie Posters - Your Buying Guide

Original
Australian Daybill Movie Posters
have never been more popular. The reason for this is simple. They are easy to display and frame unlike larger posters which often have prominent foldlines. The older daybills also feature hand litho artwork that is unique among movie posters around the world.
This guide is an overview of
Australian daybills
.
Pre 1941
Australian Daybills were originally printed in a long narrow format on paper stock. Prior to 1941, they usually measured 15" x 40" with some minor variances. They have always been commonly referred to as "
Long Daybills
". The earliest known daybill was printed for the film "The Story of the Kelly Gang" in 1919.
Many different printers were used in this era, including Simmons, W.E.Smith, Marchant and more.
The majority of
long daybills
from this era were porduced using the hand litho process but there are some examples of stone lithos, photo lithos and earlier wood block lithos.
Long Daybills
were usually unsigned. However the art for most of the Paramount Daybills featured artwork by The Richardson Studio who produced and designed daybills from the 1920s - the 1960s. The Richardson Studio was founded by John Richardson and there are a few daybills that actually bear his singature.
Occasionally,
Long Daybills
do bear the signature of the artist, including Frank Tyler, Wynne W.Davies, Fred Brodrick, Tom Ferry and more.
Long Daybills were often used as insulation in pre war homes and there have been finds of some incredible poster under carpet and lining the walls of old houses.
The War Years
During World War II, the government made a strong effort to conserve paper. For about three years, many daybills were produced in a smaller format - 10" x 30" which enabled the printers to produce an extra daybill for each sheet of paper.
Approx 1942 - 1970s
In late 1941 the format of daybills changed to a smaller 13" x 30" format. They were usually folded twice and were generally undated. The hand litho process was used predominantly throught the era although Marchant produced photo litho daybill for a brief period in the early 1940s.

The artists for Australian daybills used images from American posters and pressbooks to produce the images for the posters. Although the hand drawn style is sometimes described as crude, many collectors find the style appealing because of the "hand made" format of the poster. Collectors often lament that modern posters lack the charm and style of the older posters.

Printers varied throughout the era but from the 1960s through to the early 70s, the vast majority of daybills were printed by Robert Burton printers in Sydney.

1970s - Present Day
Robert Burton Printers continued to print daybills up until the mid 1980s but, in the early 1970s, the distributors started using M.A.P.S printers to produce many daybills.

The images were photographic and the format became gradually smaller in length although they continued to measure approximately 13" in width. In recent times daybills have only been rarely produced.









Horizontal Format Daybills
Although Daybills were nearly always produced in a vertical format, there are a few examples where they were printed as horizontal daybills. The most notable example is the daybill for The Haunted and the Hunted aka Dementia 13 which is a wonderful example of striking hand litho art.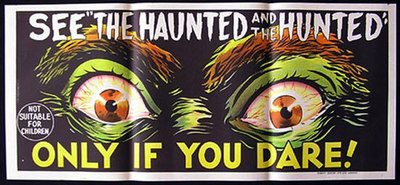 Authenticating Daybills
Australian Daybills were nearly always undated so authenticating original daybills can be difficult. However, there are many clues which usually point to the original release date of the poster. For example, you would expect that posters printed prior to 1941 would be "Long Daybills".

Any poster printed by Robert Burton is likely to be in the era from approx 1959 - 1980s. Burton did print some reissues in full colour during this era and some of these are often mistaken for original daybills.

The printers are often a clue to the oriignality of a daybill. Some printers like Chromo Print only printed daybills for a very brief period so that can be a specific clue as to when a daybill was printed.

Changes to censorship laws also determine the era in which a daybill was printed. There were major changes to the censorship laws in the early 1970s with new ratings introduced and these provide important clues in the verifcation process.

The Hand Litho process of printing is very difficult if not impossible to reproduce accurately. The paper that was used for daybill up until the early 1970s is no longer available so thankfully, it is easy to spot a reproduction.

Note that for some titles, more than one style daybill was produced. Dementia 13 is an example where two different style of daybill was produced. 2 daybills were also produced for many other films including An American in Paris.

However there are examples where full colour reissue daybills are passed off as original. Common examples are for Cat On a Hot Tin Roof and North by NorthWest.

The old adage always applies. If in doubt you should do some research and ask questions of the seller. Don't buy until you are satisfied that the poster you are buying is original.

For the most comprehensive selection of Australian Daybills go to my eBay store.