Buying BRASS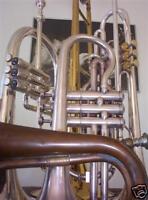 Being a professional Brass musician and tutor it is important that beginners and parents understand what to buy and what to stear clear of in the second hand market and the "new" cheap imports
Ebay BRASS buyer's Guide
. Generally most second hand instruments of reputable "known" brands are great to go for and you should always ask lots of questions (no matter how "dumb" you think they are) and request more photos if possible.
In my teaching career I have come across many brands of brass instruments and most of them play great; however one must be careful when getting excited about "cheap" instruments that are available. Almost always they are cheap for a reason! Once a student came to me with a instrument that he purchased very cheaply on ebay and I was so surprised about how badly it played I insisted he use it only as an ornament, it played like it had a brick shoved into the tubing!

To put this into perspective you usually have to spend over $3000 at a music store for a professional instrument (trumpet or trombone) in order to get the started with a top of the range model. A semi-pro instrument may cost half that new, and a good student model will be half that again. So if you believe you will get a great instrument for a young person to experiment with for under $100 you are risking supplying him/her with a dud that may turn them off music for life! These cheap instruments don't use the same metal as good brands and therefore a subject to corrosion in a very short time. Sometimes solder falls off in 6 months and the student is left without an instrument whilst it undergoes costly repairs. Also don't be fooled by instruments that are multi coloured, have flashing lights or general christmas decorations, it's sound and reliabilty that you want not an ornament or a fashion accesory.
If you stick to brand new student models with well know brands you are assured that if in a couple of years you or your child gives up playing you can sell it for at least half (if not a little more than half) the value of what you paid for it, condition depending of course.
Same goes if you buy a reputable brand second hand you can save some money and pay about half of what the new cost is, it may have a couple of dents and a missing a little lacquer but it should still play great if it was looked after, serviced and never suffered any major damage. For ther price of a brand new student model you can even find some second hand professional models that have almost always been looked after (albiet a little well used) and play a lot nicer than the equivilant priced student model.
If your considering buying an instrument always check with your tutor as they will generally have experience on what is good and what may 'appear' to be good but will fall apart in 12 months! If I have a more advanced student ready to buy a pro or semi-pro horn I will happily even go to a shop and play the instrument that the student is interested in. Ask your tutor or a pro you may know for their opinion.
Also searching on the web for the brand your interested in and finding out as much as possible about it helps too. If they don't have a website at all you know something is wrong as all top brands are made and supplied by repuatble known trading companies who have to adhere to quality controls set out by their country.
Happy bidding and stick to the brands you know first!