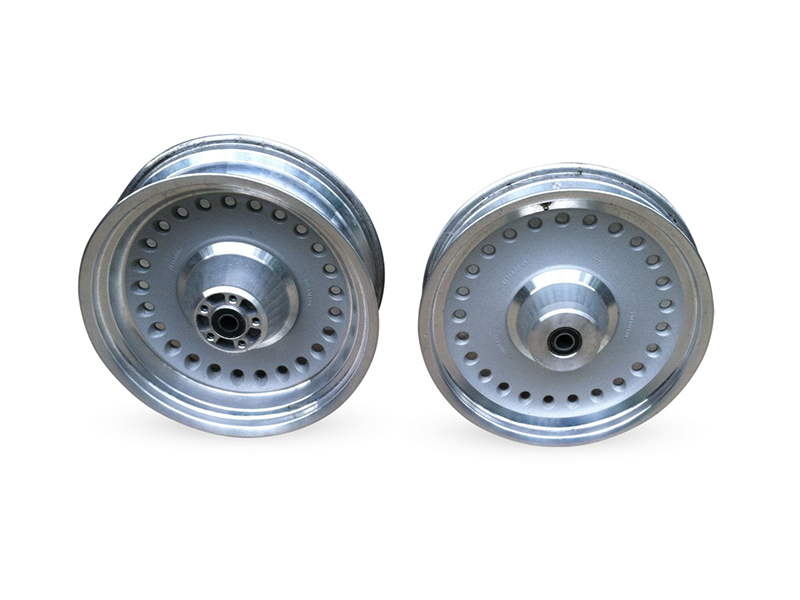 Cast wheels that are designed for motorbikes are made from aluminium or magnesium. Both provide visual appeal for your motorbike. The aluminium cast wheels are also very light in weight and provide durability while driving a motorbike. A lighter motorbike provides better handling for drivers.
The cast wheels allow for better brake performance when driving on wet roads or challenging conditions. Another advantage of cast wheels is that they save fuel.
There are several kinds of cast wheels available for motorbike owners, so before purchasing one, a diligent search should be performed to make sure the right kinds of wheels are purchased. There are two categories of motorbike wheels available. The first category is the solid wheel, which brings together the rim and the spokes. The second category is the spoke wheel, which has laced spokes that provide wheel durability.
Cast wheels are designed with quality, strength, and durability to withstand the impact the wheels experience due to driving and weather conditions. Alloy cast wheels are pretty durable, allowing the wheels to last a long time. Cast chrome wheels are not very cheap, so there are a few things to consider when searching for cast wheels for your motorbike.
Condition
New cast or alloy wheels can be preferable, but they are costly. Used cast wheels can pose a problem if you purchase wheels that have a great deal of corrosion or are vulnerable to high levels of corrosion. If you are searching on eBay for used cast wheels, be sure you take a close look at pictures for signs of corrosion.
Wholesale
One may consider purchasing cast alloy wheels from a wholesaler. This may seem odd, since purchasing from many wholesalers means buying multiple quantities. However, there are some wholesale dealers, especially on eBay, that don't require purchasing items in quantity and still offer a great discount when it comes to buying cast alloy wheels.
Wheel Size
It is of the utmost importance to make sure the correct wheel size is purchased for the motorbike. The cast wheels must fit perfectly on the motorbike. If a wheel doesn't fit properly, the motorbike will not function properly. Wheels that are too large or too small will disrupt the handling. Not only will that affect the performance, it can also cause accidents and injuries. The wheel size has three measurements - the width, the height, and the diameter.
Aluminium
The aluminium-based wheel is a popular kind of wheel for motorbikes. Most of these kinds of cast wheels are constructed to be in the solid wheel category. The main advantage of this kind of wheel is that it comes with a chrome or polish finish which provides a shine. The main disadvantage is the cost. Aluminium wheels will often cost more than magnesium or other types of motorbike wheels.
Magnesium
Magnesium wheels are more popular with drivers who ride their motorbikes through winding and sharp curves. The magnesium design allows for more flexibility to absorb the impact of the sharp turns and rough driving. The magnesium is stronger and provides better handling when making these turns.
Carbon Fibre
Carbon fibre is the strongest of the alloy cast wheels for motorbikes. Even though they are the strongest, the carbon fibre wheels are made up of the most lightweight material. This is the main advantage of carbon fibre wheels because the lightweight material allows for the best fuel savings. Carbon fibre cast wheels are good for cross-country riding and professional drivers. However, the main disadvantage is the cost. The carbon fibre wheel is the most costly alloy cast wheel, costing more than even the aluminium wheels.
How to Buy Cast Wheels for a Motorbike on eBay
When searching on eBay for cast wheels, buyers need to be aware of the type of wheel needed for the motorbike. As mentioned before, the wrong wheel size will definitely cause problems and will prevent one from safely driving a motorbike. Therefore, be sure the wheel is the right size. Cast wheels are also very expensive, so you want to make sure that you buy the right type for your intended motorbike activities.
While searching on eBay, enter "cast wheels", "alloy wheels", or "motorbike wheels" to find an appropriate list of wheels. You can also search for brand name motorbikes. Look for a seller that has a large variety of wheels for sale, with detailed photos that display wheels, and some form of product warranty. Since alloy wheels can be very expensive, it is important to deal with a seller that has a good rating and favourable reviews, acceptable delivery terms, and a respectable eBay reputation.