The recent trend towards keeping cats indoors is a positive one. Your pet is safe, away from dangerous cars and altercations with the neighbourhood cats and dogs, and our native wildlife if safe from your cat's predatory instincts.
Indoor cats are safe and happy:
Contrary to popular belief, an indoor cat can be a very happy cat. In fact, the indoor cat who gets plenty of attention and playful stimulation can be happier than an outdoor cat who receives little attention from his human companions. Shopping on eBay Australia for cat toys and cat supplies can be as fun and rewarding for you as it is for kitty!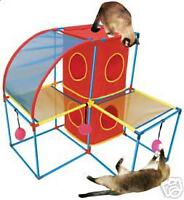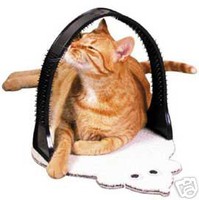 Start off young, where possible. A kitten who has been raised indoors all its life will show little inclination for the great outdoors. An older cat who has been used to roaming may take a while to settle down, but if you are sure to present plenty of stimulating activities it will not be long before your older cat is also happy and contented to stay inside.
Shop on eBay Australia for Interactive Cat Toys:
Provide plenty of stimulating, interactive cat toys that kitty can play with, both with you and by himself. There are some excellent cat toys available on eBay, such as the Garfield Twister, Thing in a Bag and the Flying Bug Jar, to name just a few.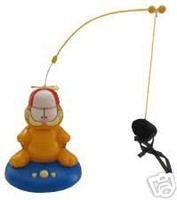 Rotate your cat's toys from time to time to prevent your cat becoming bored with the same selection. New toys are always a treat, but old toys are just as welcomed when they are re-presented to kitty after some time away in the cupboard.
Take time to play with your cat yourself, he will enjoy your company and attention. Simple games such as chasing a ball or a piece of paper will keep him amused for hours.
Save your Furniture - Give Your Cat His Own:
Both you and your cat will appreciate cat furniture such as cat jungle gyms and cat scratching posts designed just for your feline friend. To prevent your cat from claiming your new lounge suite for his scratching post, provide him with a ready-made cat tree from eBay, or make your own.
Cats also love rustly cat tunnels and similar hidey holes to play and sleep in. You can even buy special play tents on eBay, just for cats!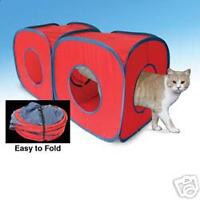 Safe Ways for Kitty to Enjoy the "Great Outdoors":
Provide a screened in porch or veranda, or purchase a ready-made cat enclosure from eBay to provide your cat with a safe and secure "outdoor" access. Cat enclosures can be embellished with climbing frames, small "indoor" gardens, even fountains or water features!
Plant cat grass, cat mint and catnip for your cat to enjoy. Seeds and seedlings for these can be purchased directly off eBay. If you don't have an enclosed garden your cat can safely access, these can be planted in pots on a windowsill.
Believe it or not, your cat can be trained to walk on a leash, just like a dog. Buy a specially designed cat harness from eBay to enable your cat to safely enjoy walks with you. Although kitty may not appreciate his new cat harness at first, most cats soon learn that the harness means an enjoyable walk in the fresh outdoor air.
Look for Other Cat Supplies on eBay to Make your Indoor Cat a Happy Cat:
Provide a warm and snuggly cat bed for kitty to call his own. He will feel safe and secure having a snug retreat of his very own and you won't have to share your own bed with your furry friend!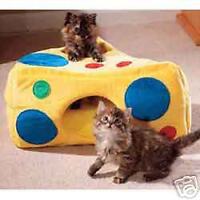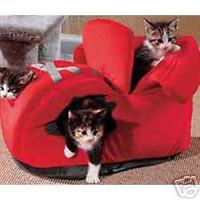 Remember to provide clean and accessible toilet arrangements for your indoor cat. Buy a cat litter box on eBay and ensure you keep it clean and fresh - cats hate dirty litter boxes. Alternatively, why not train your cat to use a human toilet? A Litter Kwitter cat toilet training system will have your cat using the toilet in just a few short weeks - say goodbye to kitty litter forever!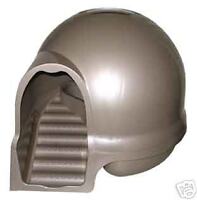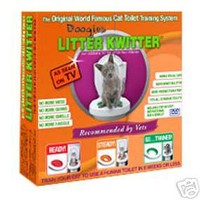 Lastly, don't forget that even though your cat lives indoors, he should still be outfitted with a cat collar and identification tag - just in case an accidentally left open door or window gives kitty the opportunity to sample the great outdoors.
Enjoy shopping for your cat supplies and accessories on eBay Australia - it's lots of fun and you will be amazed with the selection and variety of purr-fect products available for you to bid on or buy in eBay Stores - everything you need for kitty is all available on eBay Australia! Happy Shopping - Meow!