Buying clothes on eBay is always fun. It's even better if the item you receive is exactly what you wanted! This general guide, written from personal experience and observations, aims to help buyers know what things to look for (and to watch out for) in clothing listings they are thinking of bidding on, and what questions to ask sellers, to ensure their potential purchase is suitable. It also covers general transaction issues as they apply to clothing. While the focus is women's clothes, the ideas are equally applicable to other garments.
A. Fabrics and Measurements: In Search of the Perfect Fit
It's no news that size classifications vary considerably between (and even within) brands and, of course, internationally. However, many sellers still only tell you "Size 10", "Size L" etc, or even ,"I think it should maybe fit about a Size M". While it can be helpful to know how something fits a seller of a particular size, "I'm a size 14 and it fits me fine", everyone is a different shape, everyone likes things to fit differently, and people usually determine their size by what size clothes they wear!
So, really, the safest approach is to compare the measurements with a similarly cut item of your own, considering any stretch in the fabric. Note that if there are two numbers given for one measurement, they are usually "stretched" and "unstretched", telling you that the garment does have stretch and, very approximately, how much. Otherwise, the likely amount of stretch can be determined by the composition of the fabric; additions of things like elastane and nylon are often used to give extra stretch, while pure cotton, polyester and wool have some natural stretch.
Often you will have to ask the seller for measurements - if there are any that are particularly important to you, make sure you specify that they are required. Also, make sure that you and the seller are measuring the same way. The following list and diagram describe commonly required measurements and the ways people, correctly or otherwise, take them (with the garment laid flat):
Arm Length: Inside (from underarm down thru cuff); outside (from shoulder seam down thru cuff)

Length (of Top/Jacket): From shoulder thru hem; from back of collar thru hem (also from base of collar at the back).

Bust/Chest: Underarm to underarm, or at various distances below this line.

Leg Length: Inside (from crotch); outside (from waistband).

Waist: For pants/skirts: Across waistband. Note this measurement will come across your hips for 'hipster' garments. For tops/jackets: Across the narrowest part - this measurement is usually only important when the garment is fitted enough for this point to be clear.

Rise: From crotch seam up the back thru waistband.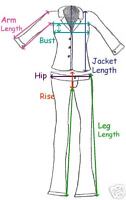 B. Colour and Condition: Where a Word is Worth a Thousand Pictures
Pictures can tell a thousand words, especially for items like clothing that are such a matter of individual taste. However, as we will see, they can also give buyers a false sense of security about the condition of the item, and can create misunderstanding if the camera or computer monitor distorts the colours.
So, if, for example, you are looking at a jumper desribed as pink that looks red, ask the seller which colour it is. Don't simply ask if it is the same colour as the picture as the seller's monitor may make the picture appear a different colour to them.
Condition is a very personal, subjective judgment, so, for used garments (and seconds etc), don't rely on statements like "it's in good pre-loved condition". If you don't want to buy a garment with wear, pilling, damage, stains etc, ask the seller about these details if not specified. Most won't be offended - they'll be glad you're interested in their item!
Inspect all pictures carefully, but don't rely on this; they might show you if there is a stain etc, which is helpful, but they also might not..
Consider this colourful, fresh looking top. Does it look in good condition to you?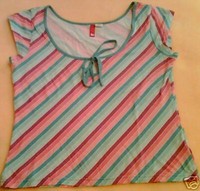 If you answered yes, think again! The very faint looking stains circled are much darker blue in real life (my camera couldn't pick this up - which proves my point), making the top un-wearable.

What about this one?

Fooled again?

The moral of this story is: Ask questions, get facts and make your own informed judgment of the item's condition.
C. Designer/Brand-Name Bargains - Too Good to be True?
There are many guides to help you identify fakes in any particular brand. These should come up in an ordinary eBay search for that brand. Here are some more general principles to help you avoid problems:
Check Seller's Feedback: If the seller has sold this or similar items before, which is likely if they are a business, you will know if other eBayers were satisfied with its authenticity. If the seller is not a business, but an individual clearing out their personal items, don't be afraid to ask where they got the item for extra peace of mind.
Look for authenticity guarantees: While they may be reassuring, keep in mind that sellers could make false guarantees, which they will not uphold, to gain your trust and your money. Generally, the seller's eBay reputation is a good indicator of the value of their guarantee. Also, always remember to read the terms of any guarantee/refund policies: Does it cover postage costs? Return postage?
There is always a risk in buying brands this way; it is up to you to decide if the potential savings outweigh the risk for any particular item.
D. Postage - How Much is Too Much?
As always, don't bid/buy unless you're happy with the postage cost; if it is not listed, ask the seller.
When making your decision, however, realise that, for clothing, two apparently similar items may genuinely require substantially different postage costs:
Consider the difference in weight between heavy denim jeans and lightter bengaline pants, or the difference in volume between a casual cotton skirt and jacket and a structured, tailored suit with shoulder pads - the first can be squashed down much smaller.
Some types of clothes, like evening dresses and businesswear, may require more packaging materials to keep them safe, which the seller is entitled to charge for. If you are concerned, ask the seller what is included in the postage cost.
Refer to eBay's policies for rules on postage charges.
E. How To Make Sure You get Your Outfit in Time for That Special Occasion
When an event suddenly comes up, or, only days before, you realise your planned outfit just doesn't look right anymore, the perfect solution might be waiting on eBay. However, all aspects of the transaction, from waiting for the action's end to postage, take time. These simple tips, and some commonsense, can help you avoid disappointment.
Look for Buy-It-Now listings or those ending soon. If something you like has no bids, email the seller - they may be willing to add a B-I-N price. However, take into account the time it could takle to get a reply, and the fact that your desperation makes it a sellers' market - the B-I-N price could be very high!
Paypal payments take less time to clear than bank deposits, as they are instant, and, generally, deposits made at a bank clear quicker than Internet transfers.
Depending on your location, and the item's, within Australia, Express Post guarantees to deliver you the item the day after it is posted. Many sellers will happily post Express, even if this is not listed, if you email them beforehand and are willing to pay associated costs. If relying on postage time, always make sure of when the seller is willing to post: Immediately on receipt of payment? only on Tuesdays?
Local pickup can save lots of time too, if you're lucky enough to live near the item and the selelr is available at an appropriate time (never assume this - always email to check arrangements before bidding if timing is crucial)
If your occasion is, or coincides with, a public holiday like Christmas, bear in mind that services like postage and money transfers are usually slower, becasuse they may be overloaded and closed on some holidays.
***
Thankyou for reading my guide.
I hope it helps.
Good Luck with your shopping and, most of all, HAVE FUN!