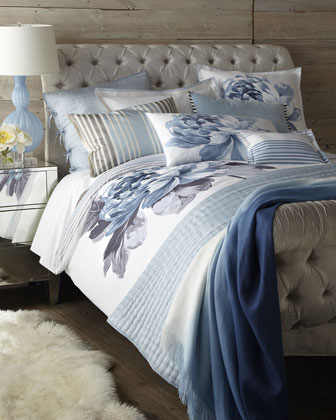 The designer quilt cover market is quite impressive and there are many different styles, materials, sizes, and types. No matter what buyers' needs and personal tastes might be, they shouldn't have any trouble finding a designer quilt that perfectly suits them. New and used designer quilt covers that span the entire range of styles, materials, and sizes and are available at traditional brick and mortar stores as well as online.
Understanding the Function of Designer Quilt Covers
Quilt covers fill two basic functions. They're practical, keeping the underlying bedding free of dust and debris, and they also look nice and often serve as the bedroom's focal point. Quilt covers keep the quilt clean and reduce the amount of wear and tear the quilt handles, extending the life of the quilt just like how pillow casings extend the number of usable years people get from their pillows.
Choosing the Right Size
It's easy to the mistake of purchasing the wrong designer quilt cover size. If buying online, it's important to double check to make sure the quilt dimensions match the corresponding bed dimensions.
| Type of Bed | Dimensions of Bed (cm) | The Quilt Dimensions Needed (cm) |
| --- | --- | --- |
| Single | 91 x 191 | 140 x 210 |
| Double | 137 x 191 | 180 x 210 |
| Queen | 152 x 203 | 210 x 210 |
| King Single | 106 x 203 | 180 x 210 |
| King | 183 x 203 | 245 x 210 |
Since the quilt cover is supposed to hang down the sides of the bed, completely covering the bedding, the quilt dimensions need to be larger than the bed's actual dimensions. It's better to have a quilt cover that's too big rather than too small.
Different Styles of Designer Quilt Covers
Knowing the three basic designer quilt cover styles and which type will look best in the bedroom makes it easier for consumers to streamline their purchase. Classic quilt covers are thick and perfect for chilly nights, printed quilt covers have themes printed on the top side, and paneled quilt covers have been made by sewing various fabric panels together. Within each of these three styles, there are many variations, and it's not uncommon to find some of the styles have been combined. Design choices frequently include cartoon characters, quotes, geometric patterns, and landscapes.
Affordable Designer Quilt Cover Materials
The material that the designer quilt cover is made of has a huge impact on the cost of the cover. The most common materials include silk, cotton, and satin. Brands that have become very popular over the years include:
Bernatix

Alexander Henry

Blue Hill

Michael Miller

Riley Blake

P&B Textiles
Silk Designer Quilt Covers
The most expensive material used to make quilt covers is silk. Not only do silk designer quilt covers feel and look great, they're also durable and the colour seldom fades. Since silk doesn't attract dust like other materials, the quilt covers will be low maintenance. When the quilt does need to be cleaned, it will need to be taken to the dry cleaners or hand washed. While silk quilts tend to cost more than quilts made out of other types of material, it's possible for consumers to get a high quality silk quilt at a reasonable price. Excellent ways to find silk designer quilt covers at low prices include:
End of season sales

Outlet malls

Purchasing used quilts

Looking for designs that are out of season

Online auctions
Cotton Designer Quilt Covers
The low price of cotton designer quilt covers make these the most common. The technology exists to make the material fade-resistant and these covers can be laundered in washing machines provided the center agitator has been removed.
Satin Designer Quilt Covers
Satin looks and feels great, but it's expensive and not nearly as durable as silk or cotton. Washing satin designer quilt covers requires special care. Pets should not be encouraged to sleep on satin designer quilt covers since their nails can tear the fragile material. Buyers who are willing to purchase secondhand satin quilt covers, or shop at wholesale bedding stores or online auctions, can usually find high-quality satin quilts at a lower price than they'd pay in a traditional retail store.
How to Buy Affordable Designer Quilt Covers on eBay
There's a quilt cover for just about every budget, and many quality quilt covers can be found at reasonable prices. Buyers who have familiarized themselves with the market and understand quilts' defining features will have the easiest time navigating the market.
The selection of designer quilt covers that can be found on eBay is quite impressive. In addition to new designer quilt covers, there are usually some high quality used designer quilt covers available. Buyers shouldn't have any trouble finding the quilt cover that's perfect for them. They need to use the eBay search bar and enter as many details, like the brand name, about their desired quilt cover as possible. Another way to find designer quilt cover is to go to the Home & Garden section, click on Bedding, and then choose Quit Covers.