Buying diamonds on eBay

Buying a diamond is a pretty scary thing but buying one on eBay sounds like something only someone out of their mind would do but...... there is a HUGE benefit and that is the amount of money you can save.
The typical mark up on diamonds from your average jeweller is around 140%
Obviously like anything else you buy online there are things you should be wary of:
Make sure you get to know the seller - check out their feedback, check the items they have sold previously and be wary of people who have high feedback from selling low priced items.
Ask questions about the diamond - buying a diamond is a big purchase so don't be afraid to ask the seller questions about the diamond and the setting if it comes in one. Ask about the size, the quality, the cut and the colour.... I'll give you more tips on how to save on these without compromising further down.
Ask questions about the setting - if the diamond comes in a setting make sure you get as much information as possible about it to. There are three types of material the setting could be made from - White Gold, Yellow Gold and Platinum. It is really up to you as to what metal you prefer, but the standard in Australia is 18ct.

The 4 Cs (find out what a Jeweller wont tell you):

CUT:

The first of the Cs to consider is cut and the only thing you need to worry about here is what you like. Here are some examples of the different cuts available:



Brilliant Princess Cushion Marquise Heart Pear Trillion

COLOUR:

Many jewellers will tell you that Clarity is the most important of the Cs, the Clarity also impacts heavily on the price you pay so it is no wonder Jewellers place so much impact on Clarity but I actually think Colour is the most important.
Something else a Jeweller wont tell you is that most inclusion (the marks that determine the quality of a diamond) can only be seen under a microscope.... but Colour can be seen with the naked eye!
Diamonds range in colour from D all the way through until S.
Colourless: D - E
Near Colorless: G - J
Faint: K - M
Very Light: N - R
Light: S
As I mention above... you can compromise on quality (to a certain extent) but try not to compromise on Colour - try to get a diamond between D and K.

CLARITY:

Ok... so now we get to the 3rd of the Cs - Clarity. Jewellers will try to baffle you with talk an Flawless and VVS1 and SI1. Here is a table of how diamonds are graded but a simple thing to remember is that it is only those diamonds graded I (the lowest grade) where the inclusion can be seen with the naked eye.
One note for those thinking of buying a diamond on eBay is to watch out for those diamonds that say 'clarity enhanced'. Basically what this means is that the diamond has gone through a process of trying to make the diamond appear clearer than it actually is. This isn't always a bad thing and can work in your favour if you have a tight budget but it is just something to be conscious of.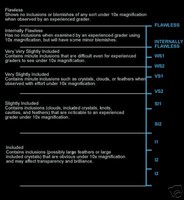 CARAT:

The last of the Cs and the one that is most important to most women is Carat - this is the size of the diamond. This one is pretty much common sense - the bigger the diamond the more you pay. A tip for any guys reading this..... remember this is the C that all her friends and your respective families will judge you on so scrimp on the Clarity and the Colour if you want but don't scrimp on Carat!
ANOTHER C - CERTIFIED:

This is something that you should take very seriously especially when buying diamonds on eBay. Make sure the diamond comes with a valuation and is certified by the GIA or for local certification in Australia DCLA or in the United States AGS. These three bodies do independent certification of diamonds so you can feel assured that the information is correct.
PAYING FOR THE DIAMOND:

Ok so what should you do now you have found the diamond? There are a couple of payment methods you could use:
PayPal: if the item you are purchasing is below $1,500 , you can pay with PayPal and in the off chance that something goes wrong you will should be covered under PayPal Buyer Protection. There is certain criteria so best to read the Ts & Cs first.
Escrow: if the item is over $1,500 you should use an Escrow service and what they do is they hold the money in trust for the seller until you receive the diamond and check that it is as described. Check with the seller first though to make sure they accept this option.
Credit Card: many banks offer purchase protection so check firstly with your bank if your credit card offers this and to what level and then you can use your credit card to pay for the diamond.

Ok, so I know that is a lot to take in but just remember how much you can save by buying your diamonds on eBay......
I hope you find this useful..... if you did make sure to vote for it!