Why Choose Satin?
Satin bedding is very popular because it is smooth and shiny and makes a wonderful gift.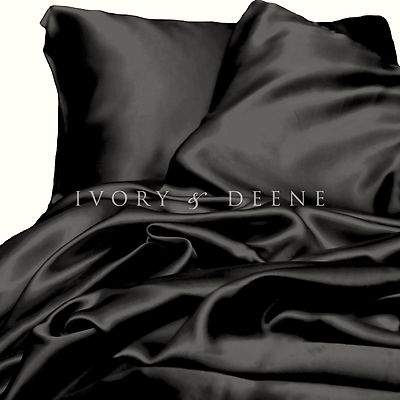 Price
When buying satin sheets, you will get what you pay for. The higher the price, most of the time, the better quality they will be. Always ask questions if you are unsure as most sellers are happy to communicate and answer questions.
Weave
There are two ways satin is made. The first method is knit which can give a hard, rough feeling. The second is woven which gives a smooth finish. Ivory & Deene only stock woven satin.
Fabric
Polyester satin fabric is very easy to care for and will last longer if hand washed. They wash well in the machine and are wrinkle free if the spin cycle is not too long and hard. Drip dry would be preferable as they don't take long to dry.
Thread Count
Satin fabric is measured by weight, not by thread count, so you won't see our bedding advertising a thread count. The weight generally falls between 70gsm to 100gsm with the higher quality being the 100gsm. It is difficult to say what thread count that will be because satin is a man made product.
Care Instructions
There are some helpful hints to keep your satin bedding looking the best. Unshaven skin or rough clothing may rub on the fabric and cause 'bobbles' or 'tiny balls' on the fabric. Rough, sharp fingernails and toenails can get caught and cause 'pulls' in the fabric. Dry, cracked heels may also 'pull' on the fabric and damage the fibers. It's probably not a good idea to allow your pets on the satin bedding as they do have claws that can damage the fibres.
So satin needs a little more care than the traditional cotton bedding, but if care is taken, they can be enjoyed for a long time.
Satin Quilt Covers
Ivory & Deene also sell a range of satin quilt covers in various colours including animal print and reversible styles. We look forward to serving you when you next visit our store.