Useful Tips For Buying Sizzix Sizzlit Dies On Ebay
This guide will outline several issues to consider when purchasing Sizzix Sizzlit dies on ebay. The Sizzix is a home die cutting system. The Sizzlit dies are designed to be used in the Sidekick Machine or Sizzix machine with the Converter system.
Sidekick Machine Original Machine Converter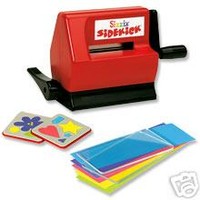 OR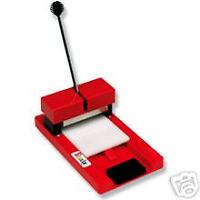 +

The Sizzix Sizzlits dies much thinner and smaller than the Originals dies. This makes them considerably cheaper. They are generally sold in packs of 4 dies. One pack of Sizzlits dies will cost about the same amount as a red Original die. Sizzlits dies come in just one size. Sizzlit dies come in a variety of shapes, and a very large range of alphabet styles. The Sizzlits are recommended for use with paper and thin card only.
New or Used Dies
The first major consideration is whether the die you are considering buying is new or used.
New
- Many sellers will sell new, unused dies, still in the original packaging. These dies will usually be the most expensive types of dies to buy. They have the advantage of being in the best condition, with sharp cutting blades.
Used
- Pre-loved are also available. When listing these, most sellers will indicate how often the dies have been used. Often how many "cuts" have been made with them. Generally, most used dies have only been used a few times. They are being sold because the owner doesn't get any use out of them and wants to recoup some money of what can be a large initial investment. Used dies should be slightly cheaper than new ones.
Loose or In Case
Sizzlit dies do not come in individual storage cases like the Originals dies. They are shipped in cardboard packaging. There is a storage case system for the Sizzlits dies, that holds 35 Sizzlits dies.
Sizes
The Sizzlits dies only come in one size. The die is roughly 2 3/8" x 2 5/7" x 1/8" thick.
Below is an image showing dies from the Stencil Alphabet.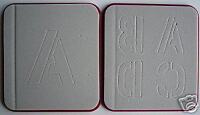 Location and Postage Costs
While not large, Sizzix dies can be quite heavy. So it is important to check where the die you are interested in is located. Many Sizzix sellers are based in the United States, so weight of the dies can become an issue, with postage calculated by weight to Australia.
Sizzix Buying Checklist
* New or Used?
* Original Packaging?
* Size?
* Location and Postage Costs?

I hope you've found this guide useful. If you have, please take the time to vote for the guide. If you have any questions not answered in the guide or suggestions for other guides (I love writing them!), please click on my username in the top right hand corner to send me a message.