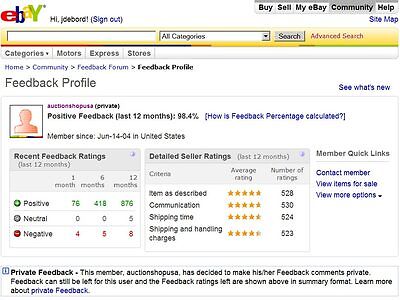 Add a caption
An example of a seller's eBay profile, displaying feedback.
Look at the seller's feedback.
It is important to know if you're buying from a legit seller, or a fake seller.

You can know this by checking their eBay profile and see how good their feedback is from other users.

If there are more NEGATIVE feedback ratings for the seller, it is more than likely that the seller is not trustworthy and the item/s are quite possibly fraud.

Also, when buying certain items, watch out for the price the item. If it was way to expensive but the item is, for example, a key chain, it may be fake. It is very important to look at the description of an item to make sure it is worth your money!

Another thing to help you know if the seller is selling something fake or not, is to check how many sales have been made. Like, if you are buying a special type of pen, and next to it says "1,473 sold" it most definitely means that the item is legitamate. So if there are a reasonable amount of people who have bought the item, it must mean its a popular item and it is legit.

Keep an eye out of POSITIVE feedback ratings. It is a sign that the seller is very trustworthy.