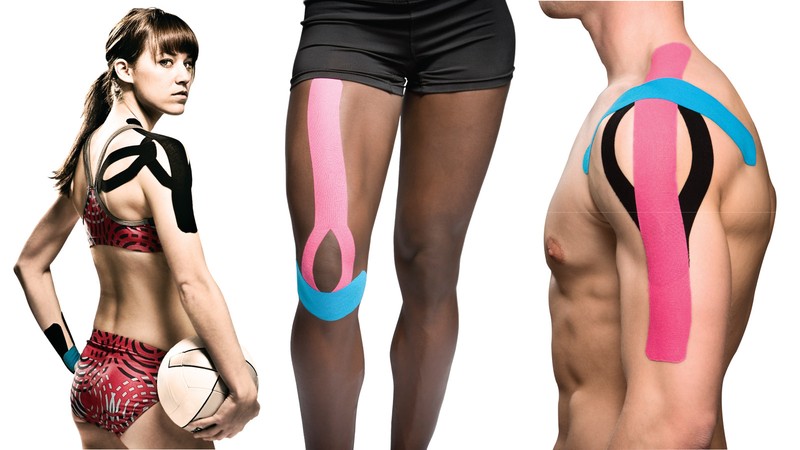 Types of Tape
Sports Strapping Tape is used for injury prevention and treatment in sport and rehab settings. Different types of tape are intended for specific purposes:

Rigid Strapping Tape
Used to restrict movement at joints, eg, ankle sprain / knee ligaments / thumb / AC Joint.
It is:
Brown or beige colour (usually)
Hand tearable
25mm, 38mm, 50mm widths x 13.7M length rolls
Purchasing considerations:
Price
Thickness of fabric
Ease of removal from roll
Ease of tearing
Ease of moulding on application
Strength of adhesive
Ease of removal from skin
Commonly you get what you pay for. Cheaper tapes tend to be hard to unwind from the roll, not stick as well on skin, or leave its glue on the skin with removal. It is safest to try a single roll before you commit to buying a box, & go with a brandname product that offers money-back quality guarantees.
There are plenty of videos available on Youtube for taping techniques with rigid strapping tape.
Hypo-Allergenic Underwrap
Some people are allergic to the zinc-oxide adhesive of rigid tape & need to use an underwrap to protect the skin. The underwrap provides a physical barrier between the glue and skin. There are 2 types of underwrap:
1. Adhesive
Hypo-allergenic adhesive & removable backing paper
Provides firm adhesion for the rigid tape
Requires clippering / shaving / cleaning / drying the skin
Cut to length with scissors
10cm & 5cm widths x 10M length rolls
2. Thin Foam
Wraps on like a bandage
Less firm adhesion for the rigid tape
Easier application and removal
No skin prep required - can go over hair.
70mm x 27M rolls.
You get what you pay for with underwrap, & it's best to go with a recognised brandname &/or try before you buy.
Kinesiology Tape
Kinesiology tape is the coloured elastic tape becoming more popular with athletes since the 2012 London Olympics.
The original brand is Kinesio Tape, and a lot of people incorrectly refer to the whole sector as Kinesio Tape. Kinesio occasionally crack down on competing brands listing their products on eBay with "kinesio" in the title, so a search of "kinesiology" yields more options. There are plenty of other brands to choose from, offering variable qualities.
Kinesiology tape is most commonly used for supporting muscles (rather than restricting range of movement at a joint like rigid tape). Some brands also promote their tape as improving strength & performance, helping muscles switch on, or relax, & decreasing inflammation & bruising. Kinesiology tapes require specific application techniques and there are a lot of instructional videos available on Youtube.
Purchasing considerations:
Price
Thickness of fabric
Strength of adhesive - which determines the length of wear time & ease of application.
Colour choice (colours are a fashion choice - rather than representing differences in the tape.)