eBay can save you money when you want to buy accesories for your musical instruments such as Strings.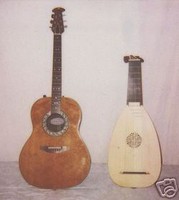 Try to gather as much information about the type of strings you need, and be prepared for your search.
Here are some factors to have known when wanting to buy Strings for your musical instrument:
What type of instrument? eg. Acoustic Guitar, Electric Guitar, Violin, Etc.
How many strings does the particular instrument need? eg. 12 or 6 string acoustic guitar, 7 or 6 string electric guitar, 4, 5, or 6 string Bass Guitar, etc.
What Gauge (Thickness)? There are different gauges of strings available depending on what level or style is applicable. This is something that you should be aware of before purchasing strings. If buying strings for someone, you would want to know what gauge of string is being used. Some instruments are set up and sometimes manufactured for only 1 particular gauge of strings.
Buy In Bulk to SAVE! For professional musicians or alike, it can pay to buy as many packs that you will need over time at once, rather than buying them individually as you need them, remembering that they can keep well in their packaging.
Don't over look unknown or cheaper brands. It is now common knowledge that most strings are made the same way (unless specified) and a lot in the same factories, but they are then distributed and packed with labeling which can be the only difference, besides the price.
Search for items close to your postage address. This can save time and money for postage. (You can do this in Advanced Search by assigning the appropriate details within the Location section.)
Remember, check the postage costs! The selling price in most cases, is not the final price you will pay. Make sure you check the postage price when comparing your items because sellers can use this section to add extra costs that you may have to pay once you have committed to the purchase.
Look for items using PAYPAL. It is true that you will get your items faster no matter what they are. Whether buying or selling, compared to other forms of payment methods, PAYPAL is the safest and it will come through as being a quicker transaction all round.
Look For Free Postage. Some sellers offer Free Post cost to save you even more money. You are able to add this to your initial search phrase. Eg."Guitar strings free post"
If you have an ebay account, you can add Favourite Searches and Favourite Sellers options, which allow you to save time when you want to purchase the same or similar items again at a later date.
Don't forget to check out the seller's feedback level and read some of their responses from past buyers and be confident with your knowledge of the item. Ask questions if you have any because it is your responsibility to know exactly what you are buying.
Some of what has been mentioned in this guide applies to any type of purchase. It is important to make note of this information, because in doing so, you can avoid being disappointed. In this way, you can benefit greatly from using eBay as a source for your strings, instruments, or anything!