Vintage Prints.
I love vintage prints. I was not around at the time these were printed as I was born in what would be considered the very late 80's, but I still feel a nostalgia towards them and I think they should be appreciated for the hard work that went into them and the gorgeous art. But the thing I love most is the way they can be used now to decorate otherwise dull walls with original pieces that won't break the bank. My personal crown jewel of vintage prints is this Motorola series (shown below) first printed in the early 60's. I currently own 4 from the series and have managed to track down a few more. Once I get the whole series I am going to get them framed and hang them. But this gave me the idea to write a guide for others thinking about buying vintage prints but are unsure what to do with them.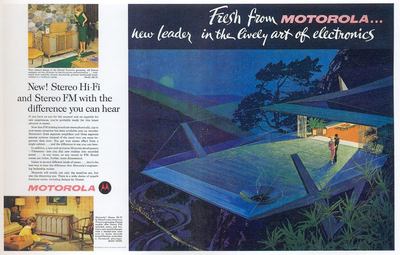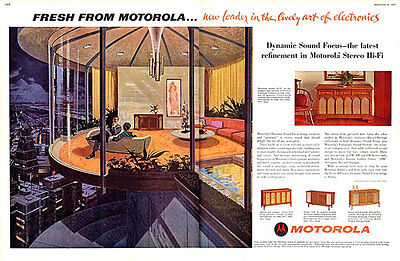 What you will need.
The good thing is you don't really need much.
A frame or a couple of frames depending on what look you are going for. You can buy frames from places like ikea for less than $10 each or you can get more expensive or even custom frames. Does not really matter, just depends on budget and personal taste. If you are on a budget I would recommend only getting single page ads as the double page ones can be awkward sizes and it can be difficult to find cheap frames.
Something that you can trim the print with, preferably a guillotine (local printer shop) but a ruler and box cutter, x acto-knife or even a pair of scissors is ok. Don't worry too much though. The frame will hide any mistakes.
Optional: Coloured paper for a boarder between the print and the frame.
Ideas for using vintage ads.
Vintage prints are great for everyone. You can decorate your room, your kids rooms, kitchens, bathrooms and even your husband's or boyfriend's man cave (car, beer and pin up themed are a big part of vintage ads).
Kitchen or BBQ Area?
Food and food related prints were such a huge part of the vintage repertoire. It accommodates a savory and a sweet tooth.
Kids
Animals, dolls, cereal, sweets and planes, trains and automobiles can be great for a boys or a girls room. It does not matter what they like, it can usually be found in vintage prints.
Art & Fashion
Art and Women and Men's fashion are a constant in vintage prints much like they are today. From 40's chic, vintage to crazy retro. I love it all, and they are often very vibrant, beautiful ads that make a great addition to any home or workplace.
Smokers and Drinkers
This is a lost part of advertising all together. Back then stars would be found posing with a ciggie and a glass of liquor. Today it would end a career. These can also be some of the most stunning prints as many have illustrations depicting mid century life and fashion.
Military enthusiast
Many ads from the 40's & 50's use beautiful art to depict war zones. We know now that the reality was far from these glamorized depictions.
Movie Buffs
Heaps of old prints advertise movies that were coming out at that time. They all have a very specific visual aesthetic using hand drawn illustrations that is no longer seen.
Traditional & Modern Women
From homemakers to working women vintage ads track the transition of the role of women. Many ads still show women in traditional roles but from the 1940s on, when women started to replace the men who were at war, ads started to reflect the gradual change and the feminist movement.
These are just some of the many ideas these prints can be used for. It is really up to you where you go with it. These prints are forgiving and look great with any style you like. Just have fun with it!