Vintage Vogue

Vintage is the new vogue, but the word 'vintage' can equate with many meanings, some more favourable than others. When purchasing vintage clothing online there are several simple warning signs to watch out for in order to ensure your eBay experience is a pleasant and beneficial one.
1. No Noticeable Marks
When a seller lists an item and states that the piece of clothing has no noticeable marks or stains, beware as this could mean that there are substantial problems on the inside of the garment, or in places which cannot be seen unless viewed up close. It is always a good idea to contact the seller before placing a bid ask specific questions about the item, for example:
Have there been any repairs to the item?
Is there any fading of the colour of the material?
Are there any buttons missing?
Are there any marks or stains on the item which can't be seen when worn?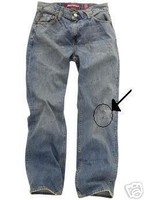 2. Material
It is beneficial to ask the seller questions regarding the material which the item is made from. A lot of brands these days sadly tend to use low grade materials which break, fade and pill very easily. As the item you are considering purchasing is presumably second-hand it is a good idea to know the nature of the material and whether it will appear up close as it does in the photos provided, as the majority of the time photos are unable to pick up pilling and dificiencies in the material.
3. Perfect Condition
If a seller lists an item as 'in perfect condition' remember this is perfect condition for a second-hand item, unless stated otherwise. A lot of the vintage clothing listed on the market place are purchased from second-hand or retro stores, so you should expect that the item has endured a lot of wear. It is a good idea to therefore check, if not noted in the description, if the seller lists the item as in perfect condition, if they know how many times the item has been worn and where they purchased the item from originally. This will reduce the chance of any problems arising if you purchase the item and it is in a 'worn' condition.
4. Photographs
Although photographs are an invaluable tool within the ebay auction place, it is a good idea to remember that although they provide you with the overall image of the item, photos can be edited and they also don't 100% of the time pick up every detail of the item.It is therefore a good idea to ask the seller to send you some photos of the item close up, so that you can have a more detailed view of the material and any dificiencies in the material.
I hope these simple tips will help to make your ebay experience a pleasant and enjoyable one.
Bye for now