Some people say "don't buy shoes on ebay"...
Sure, if you dive in head first without checking the water it can be risky, but if you arm yourself with just a little knowledge and are careful you can take advantage of the huge price savings found on ebay.

Its not that hard.....
US Sizing
You will quickly notice that the majority of shoes on ebay are in US sizes. The first annoying thing about US sizing is they are in between Australian sizes, they are generally 1 1/2 sizes above Aus.
But applying this blanket rule to all shoes & boots is not wise as there is a wide variation between styles and even in the sizing range within styles, we have some styles which only vary by 1/2 a size at 6 - 8 (US) and at 9 - 11 (US) they are a full size difference to Aus.
For this reason I would say don't take too much notice of sizing charts... (not to mention, many of them are completely incorrect anyway)
So what do I do....? You can use 'Aus = US - 1 full size' as a guide but only as a guide... The key is Measurements !!! Mesurements and more measurements !!!!
A good seller will have no problems supplying the following measurements upon request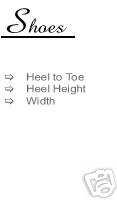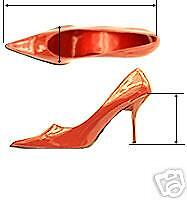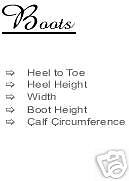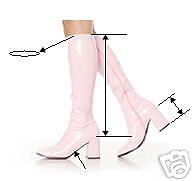 The best thing to do if you can is find a shop (a real shop) which carries US sizes and actually try them on. Most of these style shoes are in fact manufactured for the US market

Ensure the Seller accepts returns and check the time frame in which this must be done.
Take note of the delivery cost as you may have to pay this if exchange is needed.
Allow for the time to carry out an exchange. If you are buying shoes for that hot date on the weekend you won't have time to exchange them. Its best to allow at least 2 weeks.
Gather as many measurements as you can. Don't be afraid to ask the seller questions.
When measureing your own feet make sure you measure BOTH feet as its not uncommon to have one foot bigger than the other



Visit Our Ebay Store