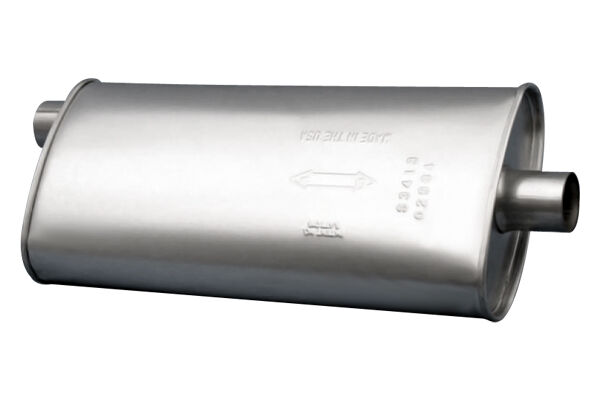 An improperly functioning muffler can cause toxic fumes to seep into the auto. The noxious fumes may lead to physical damage or death of the driver or passengers. Often overlooked, the car's exhaust system is one of the most important aspects of a vehicle, and it should be kept in tip-top working order for safety and to ensure that the auto continues to run smoothly. A good exhaust system improves a vehicle's power and torque. Upgrading a car's exhaust system is just one of the many ways an owner will help keep his vehicle lasting as long as possible with very few problems.

Muffler Benefits and Function
A muffler effectively reduces the noise that the vehicle's exhaust system makes while functioning. The noise reduction makes riding in the car a more pleasurable experience. The muffler also lowers the back pressure caused from the car's exhaust, which will help the vehicle run more efficiently.

How it Works
The car's exhaust fumes are sent through the muffler's internal resonating chamber. Within its confines are baffles and chambers which create wavelengths similar to those the car's engine makes. The wavelengths effectively cancel each other out which eliminates, and muffles, the noise of the vehicle's engine and exhaust system. The muffler helps creates a quieter ride. A properly working muffler also reduces emissions to help alleviate environmental pollution.

Muffler Types
Two types of mufflers exist. The buyer must carefully consider his objectives prior to deciding which type of muffler he wants to purchase.
Speed Producing Muffler
A muffler that is designed to have exhaust pushed through it quickly will help the vehicle have more speed. Unfortunately, the muffler will also not dampen the noise produced by the car, so a muffler that is designed with speed in mind tends to be quite loud.
Fuel Efficient Muffler
A muffler designed with fuel efficiency as its primary goal will function quietly, but decrease the car's overall speed and power.

Sizes and Shapes
The buyer should determine what size and shape muffler his vehicle requires. Depending on the vehicles size, it may need a special kind of muffler. There are numerous sizes and shapes of mufflers. The buyer needs to be familiar with his vehicle's individual needs before purchasing a muffler.
Performance Mufflers
A performance muffler does little to reduce the noise of a vehicle. Its function is actually to make the vehicle sound louder and tougher. It is supposed to amplify the overall engine noise to let the listener be aware that there is a great deal of power under the car's hood. Letting the noise resonate through the vehicle, and not muffling it, also gives the car more power and a higher level of performance.
Turbo Mufflers
Turbo mufflers have a distinctive S shape. They do very little to muffle the vehicle's noise, and cars with a turbo muffler tend to be very loud. Turbo mufflers are generally used on racing vehicles and custom performance cars.
Standard Muffler
A standard muffler functions well on all every day type vehicles. It muffles the vehicles noise and reduces emissions. A standard muffler also has a far cheaper price tag than more expensive mufflers. Standard mufflers come in wide range of shapes and sizes to fit various years, makes, and models of cars.
Muffler Materials
Mufflers come in three types of common materials–stainless steel, aluminised stainless steel, and aluminum. The materials affect the price of the muffler.
Stainless Steel: A stainless steel muffler is cheaper, but highly durable. It can last up to ten years.
Aluminised Stainless Steel: Does not last very long (only about four years), but is cheap.
Aluminum: An aluminum muffler is expensive, but does not corrode. The only serious drawback to the muffler is that it can dent easily.

Purchasing a Muffler on eBay
If the buyer knows what size, shape, and type of muffler he needs for his vehicle, he can purchase a muffler on eBay. In some cases, he can limit his eBay search results to his local area so he can make arrangements to physically view the muffler or personally pick it up after he wins the auction or buys it. Either way, he will need to know what his car requires, so he can make sure to purchase the proper muffler. A few sellers offer a return policy, but not all sellers. Prior to purchasing or bidding on the muffler, the buyer should see what the seller's return policy is for his item. The buyer should also check the seller's feedback score to make sure other buyers have been satisfied with the items they have purchased from the seller.
Muffler|Exhaust System|Turbo Muffler|Standard Muffler|Performance Muffler