There are a few things you should check before you buy a USED Lenses on ebay.
Buying second-hand lenses on ebay can save you thousands of dollars on retail. But it can also cost you a lot of money if you do not do the basic research first.
First research the lens and see how much it has sold first. The easiest way to do this is to check the COMPLETED listing with the search specifics.
The most important, like all things there are specifics you should check first.
1. Nikon, Canon, Sigma and etc make different versions of the same lenses that are optically very different and vary in price. Make sure you know what you are getting.
2. Check ebay in USA and UK sites for the same lenses, sometimes its can be 50% off the going rate in Australia. But make sure you consider the shipping rates with the buyer.
3. Have a good look at the picture and the description and if you have any doubt ask for clarification. If you bid on AS IS there is a reason for it. It is in bad shape.
1. Don't be scared of few dust as it will not effect picture quality even new ones can have them. 99 per cent of the time it will not affect picture quality.
2. If there is only one picture. And it is not new ask for close up pictures. If the seller is genuine they will send you some more pics.
3. Ask if there are any IMPACT DAMAGE if so DON'T BUY.
4. If the buyer states any scratches or such ask for a close up picture.
5. Ask if they is any haze or fungi in the lens. Ask for the through and through picture (see pic 1).

4. Do your research and know how much the lenses are!!!!!! I see so many 2nd lenses going for 95% of new prices, its crazy to pay that much when you can get a new one.
5. Feedback – Look for negatives and buyers not happy with the quality of description the seller has used.
6. Now add the purchase price you are willing to bid with the cost of postage. Then compare it to Local Australian eBay prices.
For lenses costing less then $500 (including postage by USPS) If the price difference is less then 20% buy local. If more buy it overseas.
Beware of Customs for purchase over $500 including postage you should add 10% GST if customs askes for it.
Also see if you can pay by PAYPAL and check to see if the buyer has opted in BUYER PROTECTION. This is a guarantee that you can get your money back if the buyer misrepresents the item for sale.

I have been using official Nikon 'refurbished' lenses and well used second-hand lenses for over 15 years. Lenses are one thing that I have no hesitation buying second-hand.
There is little to go wrong with them, and signs of abuse are usually evident. Dust, scratches (often called 'cleaning marks' by sellers, but they are still scratches), dings, signs of dismantling, wear on the flange, sand in the focussing mechanism etc etc.
All fairly obvious as long as you buy a lens with no irreversible damage, an overhaul by Nikon or other competent service outfit will give you a lens that is virtually as good as new.
These are the kind of pictures you want.
PIC 1. (Ont the LEFT) with these pics you can tell that the lens is well taken care of and its look MINT. Likely to be fine and a good buy.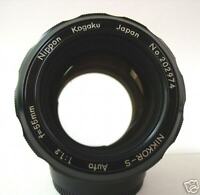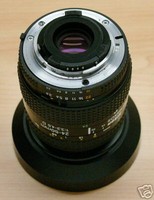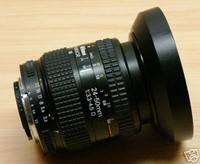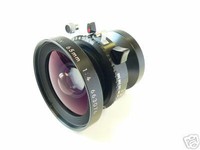 If the Picture is like below and no other pictures are in the listing please ask for more and ask ie. What is the white marking on the lens filter threads?