With so many sellers selling tents & camping equipment to choose from on eBay newcomers to camping can be quite preplexed with the vast array of tents on offer each day.
So which do you choose? What type of tent should you buy? From which seller?
Lets tackle the last question first, since it is the simplest to answer. It would be unfair of me to nominate a particular seller over another, but a quick look at my feedback will let you see who I personally prefer. This is not to say other sellers should not receive your custom, these are just who I have dealt with and received good service from. At the end of the day it comes down to the product and what your looking for.
The type of tent you decide to bid on, and ultimately purchase needs to be given some careful consideration, there is little point in buying a tent that doesn't suit your needs. All that will happen is you will loath using it, or it will be so unsuitable you won't want to use it. First consider how many people will be going camping and staying in the tent, is it just yourself, your wife, the kids, the whole family and the pet dog? Once you have worked out the number of people to be sleeping in the tent you can then refine your search to tents that cater for this number of persons.
A word of warning here
- Whether by intent or default, quite a lot of tents are listed as being 3/4 person tents or whathaveyou. I have found (and this is true with all tents, be they from eBay or retail shops) is the person capacity figure is very conservative, and sometimes it makes you wonder the size of the people they used to arrive at this number. So if you are planning on 2 people camping get a tent that says it caters for 3 people, and so, go the next capacity up. May seem silly to you now, but you will thank me when your out there!
I would always recommend, even if only for 2 people a 4 person tent, just that bit more comfy. For the solo camper a 3 person tent is a damn good choice, as not only does it give you a bit more living space, but also allows you that bit extra room to store gear within the tent.
The weight/size of the tent is also important to take into consideration. If your planning on "trekking it" rather then sticking to established (you can drive up to it) type campsites, then you are going to want (and need more importantly) something that is reasonably light. As you will see in my feedback I have two tents, one which is a larger affair and takes a little setting up, this is a excellent tent for long stays where you don't have to drag all your gear for miles before setting up camp. The other is a smaller tent which is perfectly suited to situations where you are walking some distance to the campsite, or wandering through the bush. Its light, compact and very easy to setup quickly. And it also doesn't have one of my pet hates, but more on this later. So consider the weight of the tent and also how long it will take to setup. Basically speaking the more ropes, poles and pegs the longer it will take to get the tent errected, not what you want when your in the middle of the bush and its getting dark and bucketing down with rain.
Now there are a lot of tents out there which 'build themselves' in a sense. By this I mean the type that have a fiberglass pole frame which is permantly attatched to the tent & has those annoying little elbows in them to allow the whole thing to errect in one action. My advice is to
stay well away
from these type of tent. I have owned two of them previously, and why I even brought the second one is beyond me, it was a moment of weakness. What you will find with these type of tents is that the folding elbows snap very easily, even in strong winds. But more often when packing the tent up, as its extremely hard to get them to 'snap' out of position and very easy to try and bend it the wrong way. The first one snapped when I was packing it up due to the elbow having locked in to tight and snapped in two when I was attempting to fold the tent down. The second tent had the same elbows snapped during a strong wind. I am not talking gale force wind here either. Buying one of these type of tents will only see you very unhappy with your purchase in the long run, they are definately not a tent for frequent use, and probably best suited as something to whack in the backyard for the kids to play camping in more then anything.
I am not actually sure if I am allowed to add this part, but I am sure the good people at eBay will let me know if its not appropriate, so here goes...
The two tents I now use are shown below, I brought these from eBay sellers 'auction_lotus' and 'oz_auction' respectively. Both these tents are definately worth keeping a watch on and bidding if you want a good product that will cope with the rigours of camping. The photos came direct from the sellers listings which I won the auction on, so I haven't manipulated them in anyway. The Solar Shower was purchased from 'moonshine1948'. All these sellers are great to deal with and I would recommend them to other buyers here on eBay without any hesitations.
(And no they didn't pay me to say this!)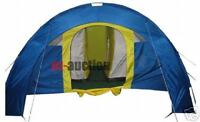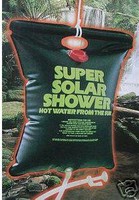 Also I am not one for brandnames. More often then not you end up paying more because other bidders are thinking just like you, thinking that 'it has to be good its made by xyz' - Not always so I'm afraid. Just because the name is a well known one doesn't mean it is going to be any better then say the tents I invested in above. And I will go out on a limb here and pit my tents against any of the more well known names in tents.

Another thing which I have not mentioned yet is the type of camping you intend doing, in respect to the environment your going to be in. Is it windy, cold, hot, wet?
For trekking you should be aiming for a tent with a small footprint and a low profile so as not to catch a lot of wind. So any type of camping I do not advise getting a tent with a flat top, even if its slightly slopped you will still find water will build up on the roof and cause you headaches. If your heading into snow then you will need a specialized tent for this environment, I've not yet see any such tents for sale on eBay, nor have I seen any that could be deemed suitable (although some have claimed this), snow camping is a different ballgame alltogether then your weekend getaway or bush camping and requires total water-proofing of everything. Most tents are not 100% water-proof, do not confuse water-resistent to water-proof they are two totally different animals. Water-resistent means the tents surface will resist water and in most cases (except maybe real havy downfalls) water will not enter through the tent provided you dont touch or whack the sides. Water-proof on the other hand means just that, it won't let water in, although same applies during very heavy downfalls you may experience some minor leakage but it would be uncommon in a water-proof tent.

For general camping either of the tents shown above will suit most needs. The smaller of the two is unique in that it is suitable for both hot & wet/windy conditions. The fly can be easily removed and the tent dome itself is made from a breathable non-see-through mesh, when the wind picks up whack on the fly, couldn't be easier!

If you have any questions, or even want me to give you some honest to-the-point advice on a tent your interested in, by all means contact me and I will be only to happy to assist you. I am also looking into the prospect of hosting 'camping tours' in the future, mainly aimed at families with children. I have spent many years camping so I am pretty seasoned when it comes to knowing what will and will not work out there.

I hope this guide has given you some insight into what tent may suit you best, and in the coming weeks I plan to write more guides in relation to camping and the equipment needed, I am also working on my coming website which will have articles on camping, camping spots and also photographic image sales via eBay..

Till next time Happy Camping!
MIXTHIS!