Is it really a bargain?
There are some terrific used Nikon Nikkor lenses for sale on eBay but there are also a some lemons. Most eBay sellers are honest but there is always the odd bad apple. Some sellers may be offering a lens which they think is in excellent condition but due to their inexperience may genuinely be mistaken. A little knowledge can help you choose the pick of the crop and provide you with a happy buying experience.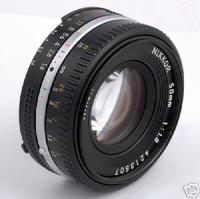 Check Credentials
Who is the seller? Take a look at their feedback. Are they experienced with photographic equipment? If not, can you be sure they are able to offer a qualified and accurate description.
Look at the images carefully
Firstly, look at the images carefully. Look for dents, scuffs, marks and damage to the barrel and general cleanliness. Unfortunately many eBay images do not show much detail and some are so bad they look like a blur in a fog. If you cannot see the lens clearly and the description does not answer your questions then write to the seller. A good seller will generally be only too happy to answer your questions.
Read the description fully
Next, read the description fully. Does it sound like the lens you want to buy? You are looking for a complete and descriptive appraisal of the lens. If in any doubt then ask the seller questions.
Ask Questions
Is there any evidence of the lens being dropped, such as dents in the barrel or on the filter ring?
Is the focus/zoom ring silky-smooth or does it have some resistance or grittiness?
Does the filter ring have any dents or knocks or evidence of a previous repair? A dent or ding can prevent filters and lenshoods fitting on. If repaired professionally it can look as good as new and is not a problem. But significant dents could indicate internal damage or stiff focussing.
Is there any oil on the iris blades? Oil on the blades can cause the iris to operate sluggishly.
Is there any internal dust on the elements? There is generally a small amount of dust in any lens and provided it is not a lot then it will not affect your images.
Are there any black specks inside the elements? These can indicate internal paint or debris.
Are there any scratches on any of the elements, either inside or outside? Some sellers might refer to 'cleaning marks'. Don't be fooled, these are scratches, though provided they are light they may not affect image quality to any significant extent.
Is there any separation of joined elements?
Are there any marks of any kind inside or outside the elements?
Is there any fungus inside (or outside) the elements? Fungus can look like fine spider webs. It grows and can eventually cover the entire surface of an element. If caught in time it can be removed but over time the acids can actually eat into the glass and this causes irreparable damage.
Does the aperture ring (if any) turn smoothly and click into each aperture 'notch' positively?
Return Policy
What is the seller's return policy? If you are not happy then can you get a refund? For items significantly not as decribed you can lodge a complaint with Paypal (if you paid with Paypal) or eBay. In the unfortunate event you have to make a claim then get an independant written opinion to provide to Paypal/eBay. Ensure you comply with any deadlines set by Paypal/eBay.
Lens Compatibility Charts
It might seem obvious but make sure you are buying the type of lens you want: manual focus (MF) or autofocus (AF). If you're unsure whether the lens will fit and work with your particular Nikon camera take a look at the lens compatibility charts here.
Nikon manual focus lens compatibility
Nikon autofocus lens compatibility
Nikon digital lens compatibility
I hope this guide has been of some use to you. Please take a look at my nikon lenses for sale.