www.engin.com.au sells various, new ATAs (Analog Telephone Adapters) also know as Voice box through their web site but they can be purchased up to 50% cheaper from approved, reputable Engin resellers on eBay.
How it works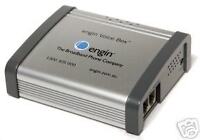 In a nutshell, an ATA converts your standard telephone signal into IP packets so you can make phone calls over a Broadband Internet (ADSL/Cable) connection at much cheaper rates. You could save up to 50% on your phone bill (I'm saving more). A 512/128 Mbps broadband connection is recommended. For just $9.95 per month Engin will give you 2 phone numbers and untimed 10 cent local/national calls & cheaper mobile/international calls then most Telcos. These new voice boxes are locked (pre-configured) to work with Engin only however they can also be unlocked and used with other VSP (Voice Service Providers) - Google: www.whirlpool.net.au to find out more.
Buying one on Ebay
There are various Voice boxes so do you homework first to work out which Engin Voice box is right for you (Check the Engin web site)

Next, search eBay for *new* Engin ATAs from reputable resellers. Check their feedback. Currently the basic voice boxes are sold for around $74 delivered. (For novice users, I recommend new so you don't have any connection issues. Experienced users might save even more and buy used one or unused from a private seller)

The offers advertised by the eBay resellers (eg. $50 cash back or another Voice box for $1) are not from the resellers but directly from Engin. Read the conditions of current offers on the Engin web site. Usually the conditions state you need to be connected for 3+months before you receive the cash back.

Getting Connected
When you receive your Voice box sign up for an account through Engin's web site. You will need to enter the MAC address of your new Voice box (printed on the box), choose an area code of your new number (eg. Sydney/Melbourne etc) and then you will be given 1 phone number from a pool of available numbers. The connection usually takes less then a couple of hours. Engin will email you with a link to activate your new phone number and shortly after your new Internet (VoIP) phone line will be ready to use. If you like, you can activate the second number on the second port of the Voice box for once off fee of $5. (good as a fax line) shortly after.
Other Considerations
There is no need to have your computer connected to make/receive calls but your ADSL/Cable modem, ATA(voice box) & home phone (standard or cordless) need to be on all the time. I also recommend your Broadband modem or home Router is configured for QoS (quality of service) so your web surfing/downloads don't interup your phone call voice quality. How this is done depends on your modem/router but simply you give your Engin ATA IP packets Priority over your computer.
I've bought 3 Engin Voice boxes on eBay... saved heaps on the purchase and halved my monthly phone bill.
Hope this guide gave you a good overview and will save you money on your eBay Engin voice box purchase and next phone bill.