So you're thinking about buying a cruiser motorbike or perhaps your already riding one and you have soon realised riding without a motorcycle jacket can be very distracting; whether its the sun burn, splattered bugs, or freezing cold temperatures shaking you to the bone. The last thing you want to be thinking while your enjoying your ride is if your properly attired for the day or worse "how bad will the damage be if I come off".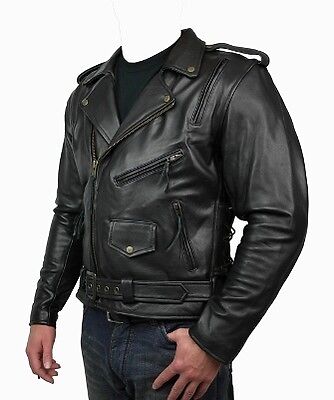 Whether you're new to riding or your getting back into it after 20 years; riding a motorcycle is extremely fun but it can also be dangerous. Wearing a leather jacket provides alot more confidence when riding, it protects you from the hot weather during the day and freezing wind chill during the night. Riding in comfort is a whole lot more enjoyable keeping you alert and responsive.
Not just any leather jacket will do, its important to get a jacket designed specifically for motorcycling. For example cut long in the back so it doesn't rider up, pleates behind the arms for stretch, longer arms to cover wrists, removable ce armour option, motorcycle grade leather & impact/abrasion proof stitching - eg thin light weight fashion jackets will burst open on impact with very little abrasion time.
For a cruiser motorcycle the most popular and quite frankly the best jacket for your bike is the Marlon Brando style leather jacket.
The main reason cruiser riders choose this jacket is its deep V cut neck which gives the feeling your not even wearing a jacket being the most comfortable leather jacket a cruiser rider can wear whilst riding. It also provides an option to zip it up high when its cold. A buttoned up high neck collar on a cruiser doesn't work as it will most likely sit up too high and annoy you.
---
Ok, but there are so many choices which one should I get? I can see they range from $75 on ebay to $600+ for a Harley
Davidson brand jacket. What's the difference?
A lot of the price has to do with the item location & brand eg you will pay about 40% more buying from a retail shop vs online. Branding is good to quickly determine the reputation/quality but you will pay significantly more for a 'branded'. Saying that the price does not always determine the quality of the product.
Do determine the quality of the product you need to look at a few key factors;
Materials/leather
Construction
Cut/fit
Feedback/testimonials/warranty
Contact seller and see how helpful they are
I would highly recommend looking through smaller boutique brands that work direct with the manufacture and sell direct to the public which operates mainly online but still offers a pickup service. If you find the right seller you will receive unbeatable value & personalised service. This method ensures a shorter supply chain which in the end saves the consumer money.
Filter through the jackets and look for sellers that actually know what they are talking about and are specific with the material and construction method they use. For example, "a very high quality jacket" is that sellers opinion. You want to look for things such as, "1.3mm top grain a grade cowhide leather, double/triple/safety stitching, removable armour, genuine ykk zippers, pleated behind arm, long back" etc.
---
From our research online and eBay we found the best value Brando jackets are in the $200-$220 range. But its important to look at the 5 points mentioned above (material, construction, cut/fit, feedback/warranty, contact the seller/pickup-try on)
The $300 range is for customers wanting a premium grade that would be similar to retailers selling jackets for $600+. Its main difference compared to the $200 jacket is its dyed natural grain leather which will age beautifully & brass zippered airevents.
Premium brando leather jacket
Where as the $75-$100 jackets should be avoided as they are more of a gimmick jacket rather than a real protective leather jacket. We've seen the $100 jackets in retail shops for $180.
Brando leather jacket under $100 delivered!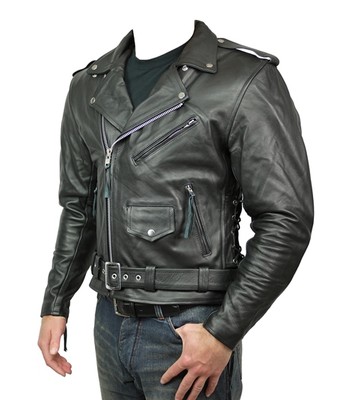 So its safe to say buying online you can expect to pay 40-50% less than retailers but its important to differentiate the real motorcycle apparel sellers & the motorcycle 'fashion' sellers.
Just to recap with choosing your leather jacket:
You need to consider the brand & where it's sold along with warranty/service.
The leather used, construction method, safety stitching
The design/cut/features/hardware/protective armour
Return policy
The links above are our own products, we highly recommend comparing our products with other sellers. All our items are sold at great prices all year round, we work direct with the manufactures who make to our strict specifications and we sell direct to the public only so you know your getting the best possible value.
If you have any questions please done hesitate to contact matt on 0405 247 408