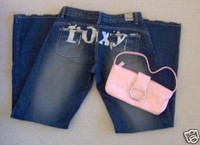 To buy or not to buy pre-loved fashions ... that is the question!
From my experience with both buying & selling on eBay, purchasing pre-loved fashions has been some of the best money I have spent with many other people feeling the same way.
Things to look out for:
Sellers

- look for sellers with experience. You can usually tell straight away by the amount of feedback a buyer has received as the the amount of experience they have had selling on eBay. A feedback of over 100 is usually a good indication that the seller knows what they are doing.


Feedback

- The percentage of feedback is important as this will give you a good indication of what previous buyers thought of their experiences with the seller. Sellers who have anything less than a 90% rating should be investigated futher. In these cases; it's always advisable to read through the comments. Take into consideration; sales to negative response ratio, just how bad the comments have been, sellers responses to these comments, etc. Sometimes negative feedback comes from very hard to please buyers; so it's wise to read the comments first before you make judgements as to whether they are a bad seller or not. Never go ahead with a purchase until you feel comfortable enough to do so.


Description

- look for a detailed description of the item. How much effort has the seller got to to describe the item? Have they mentioned; colour, finer details, prints, condition, etc? The more information the seller is willing to provide the more comfortable the buyer should feel with the trade.

Condition of the item

- keywords to look out for when purchasing pre-loved fashions; great, excellent, as new, NWOT (new without tags). Sellers should also mention any faults, wear, tear, etc? Honesty can pay off in spades for both parties.


Asking questions

- Sellers are human also, sometimes they can make mistakes, forget or overlook details they should have included in their ad. If this is the case & you would like to know more about an item, ask the seller questions! Good sellers should always reply within a 24 hour period.

Postage

- are they reasonable for the item you are purchasing. It is normal for a seller to charge $1-$2 extra for packaging & handling costs which they may incur to ensure your item is received by you in good order. However, some sellers have been known to lure buyers in by offering items at a very low price & pumping postage costs up ... please be aware & very wary of these sellers!


Combining purchases

- is a great way to save you money! It's of greater benefit to the buyer to purchase more than one item from a seller at the one time. Should you be interested in more than one item, let the seller know & ask them how much they will charge you for combined postage. The seller will then hold off on sending out and invoice to until you have finished shopping with them & include the combined postage with it.

All of the above could be said for any purchases being made through eBay. The important thing to remember is; not to be afraid of buying pre-loved fashions (or anything for that matter!). As long as you are on your toes & know what to look out for, there are some fantastic bargains to be made.
Buying pre-loved fashions can be very rewarding as most have had very little to no wear so you are practically buying new anyway, just not getting charged as much!! It's a win/win situation for all & one that I hope you will take advantage of in the future.
Read more about me, my products, services & what I have to offer here:
About Me