A little capacitor history...
Industrial espionage, a disgruntled employee and an incomplete electrolytic formula have been blamed for the capacitor plague, however seeing as these failures have been occurring since the late SS7 era, it would seem more prudent to explain the ongoing failures as byproducts of cost cutting measures during the manufacturing process, and use of less than optimum quality materials by some of the less reputable electronics component fabricators. Unfortunately the motherboard manufacturer's choice/use of these capacitors, have left some used motherboards (and similar PCB devices) in poorer condition than we could have hoped. Verifying the condition of a motherboards capacitors is as equally important when selling as buying.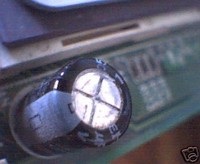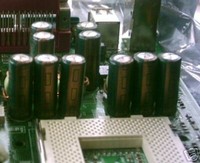 Q: Why do capacitors degrade?
A: With time, heat and poor construction materials capacitor's electrolytic substance will breakdown creating a buildup of hydrogen gas within the capacitor casing, which eventually results in the rupture and/or leaking electrolyte, usually products from well known Japanese electronic component manufacturers have a significantly lower failure rate.

Q: How do I know a motherboard has failed capacitors?
A: There a four main symptoms, bulging, leaking & venting are the most easiest to visually diagnose, while the fourth is significant system instability.

Q: What happens if I don't have the leaking capacitors repaired?
A: Initially, you may experience random freezes and general system instability, which over time becomes increasingly worse, eventually the electrolytic fluid in the failed capacitors can/will leak causing additional damage to the surface of your motherboard, and possibly other components like voltage regulators.

Q: What do capacitors actually do?
A: Essentially filter and smooth out ripples in the electrical circuit through their ability to hold enough charge to rectify fluctuations, ineffective capacitors cause irregular current supply, inherently causing system instability.

Q: What brand of capacitors are most likely to fail?
A: Unfortunately the list is long an varied, however the most common appear to be GSC, Fuhjyyu, G-Luxon, Tayeh, YEC, Teapo, Jackon, JPcon, Chhsi & HEC.

Q: Can these faulty components be repaired/replaced?
A: Yes, generally such repairs are carried out by electronics engineers & experienced hobbyists.

Q: Are motherboards the only electronic devices effected by poor capacitor condition?
A: No, any device using capacitors may have been constructed with these quality compromised capacitors, products ranging from PC power supplies, Video & Sound cards to Digital TV receivers.


Selling a USED motherboard
It is important and recommended to list everything you know about your offered item (research as necessary), this is especially so with used PC components. It is a smart marketing policy to test items prior to auction for stability/reliability (and mention so in listing), SiSoft Sandra's burn-in suite & Prime95 torture test are two such stability tests I would strongly recommend, it is also prudent to show the actual item intended for sale & included accessories, close-ups of motherboard components added to a seller's detailed and specific listing can help abate any anxiety/doubt as to its physical condition, and confident bidders mean a successful sale price for the seller.
Additional points worth remembering
Damage by Electro Static Discharge can be prevented by the use of an anti-static wriststrap, or grounding yourself by holding the PC case.


Handle with extreme care, avoid placing motherboard on carpeted/material surfaces relating to the risk of ESD damage


Motherboard should be placed in a protective anti-static bag immediately after removal
Additional protection in the form of bubble wrap, Styrofoam noodles & robust cardboard box should also be used to protect buyers purchase.
Registered mail is preferable, as it has a standard $100.00 insurance for item.
Seller should pass on the Registered Mail tracking number to the buyer.
The inclusion of driver disks where able also can assist sale.


Buying a USED motherboard or similar PCB device
If you require more information than the listing provides, I recommend you ask the seller, the only silly question is the one you don't ask. Be cautious of listings with the briefest of descriptions and/or lack of pictures of item, you don't want to buy someone else's problem. Definitely research the item on auction, look for known issues and/or difficulties had by other users on the Internet, google is a hugely underutilized resource of information. eBay also recommends bidders research the seller, check their feedback ratings from previous transactions with other members.
Additional points worth considering
Is the motherboard compatible with your existing/intended hardware?
Is the required driver disk included, or easily acquired?
Is the user manual and/or necessary accessories included with motherboard?