The 1d Red Kangaroo & Map stamp of 1913-1914 is a very popular collector's item: It was the first stamp issued for the Australian Commonwealth; before that, all the states had their own stamps! This guide will help you start a 1d red roo collection by teaching you the basics.
Step 1: Dies
There are 3 Die states (or printing states) that exist within the 1d Red Roos, Dies 1, 2 & 2A. They can be identified as follows:
Die 1

There is a break on the inner frame opposite the top of the O of ONE. Found on Plates A, B & C.
Die 2

There is neither the Die 1 break nor the Die 2A break. Found on Plates D, E & F.
Die 2A

There is a break on the inner frame opposite the town of Broome (the large bump on the coastline!) Found on Plates G, H & K (with a few exceptions).
Step 2: Terms
Mint:
Unused, never affixed to an envelope.
Used:
Affixed to an envelope, whether still that way or removed. I prefer to collect used rather than mint, as used stamps are much cheaper!
Condition
Fine Used:
No tears or thins (thins are where the paper has worn away somewhat and therefore is thinner than the rest of the stamp), perforations intact.
Condition is very dependant on opinion, so be wary that what you call "good condition" may not always be what the seller calls "good condition"!
Centring
This mean how well centred the image is on the paper that it is printed on. For example, if there is an even-width border of white paper around the stamp, it is very well-centred. The average condition is for the image to be very close to one edge. Obviously well-centred stamps are more valuable and pleasing to the eye.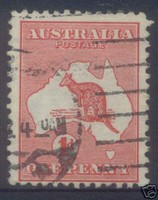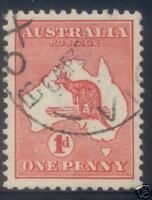 Poorly Centred (L): See how the bottom of the image is very close to the perforations? Now look at the right image of a well-centred stamp: while not perfect, this example shows you how an even border of white around the outside can make the stamp look so much better.
Postmark
A light postmark is better than a heavy or smudged postmark as it allows for better viewing of the stamp's picture. In the same way, a corner cancel is better than a cancel smack-bang in the middle of the stamp!
Some sellers will combine all 3 states (Condition, Centring & Postmark) to give you an overall grading on the stamp.
Be aware!
This will make the grading even more arguable! I prefer to mention each state separately so that the buyer can make up their own mind about the grade of the stamp.
Step 3: Price
Price can very a lot between sellers; try to find a balance between a low price and an acceptable grade of stamp.
Here is a link to search eBay for 1d red roos
Search: 1d red kangaroos
and here is a link to my items; often I sell 1d red roos with printing or plate flaws
Bekwek's items for sale
If you would like any more information about this subject or have a question not covered in this guide, please contact me here
Contact Bekwek
I hope you enjoyed my guide!
Cheers!
Bek (eBay username bekwek)
</font>