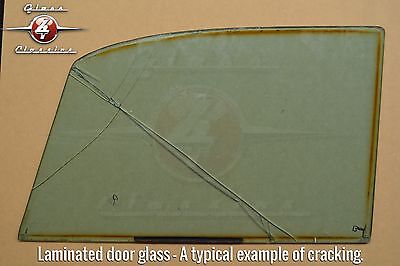 Add a caption
A great example of laminated door glass. Cracking and delaminating are so common in this type of glass.
Toughened V's Laminated glass.
So often when we speak to customer's they come to us with broken glass from shutting the door too hard or bumping the edge of the window. We can now avoid that by using toughened glass that has been CNC cut to ensure accuracy & quality.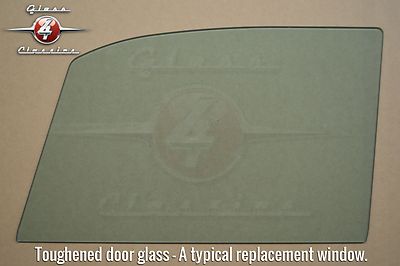 Add a caption
Here is a replacement window that has been CNC cut and produced in toughened glass.
Toughened/Tempered Glass
When the team at Glass for classics supply you with new glass, you are receiving the highest quality available. Which means that toughened glass (also referred to as tempered glass) is supplied. The glass is much more durable and will last a lifetime longer.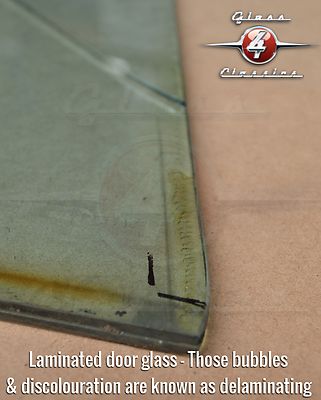 Add a caption
The bubbles and discolouration you can see are known as de-lamination. Something that is unavoidable on laminated glass.
Laminated Glass
Laminated glass has its place, for a windscreen it is ideal as the edges are covered. In a door though it leaves exposed edges and this causes problems. Due to the edges being exposed to moisture and in many cases sweat. De-laminating, discolouration and cracking are what eventuate over time.
Why we choose to use toughened glass!
The photo's above are a great example of why the team at Glass 4 classics make the choice to use toughened/tempered glass. For a large portion of you who own American made vintage and classic cars and trucks, you will find that you have laminated glass in the sides/rear of your vehicle. During its time, the glass served its purpose, however unlike many things, the glass does not get better with age.
It has suffered long summers with arms hanging out the window and salty sweat working its way through the edges, cold winters where it hardened the inter-layer in the glass and all too often a door getting shut too hard or the occasional bee-bee gun pellet being shot at it.
Toughened glass eliminates any of these issues because it is made up of one piece of glass that has been heat treated. For those of you who are unsure, toughened glass is the sort that breaks into the small cubes when smashed. It takes a lot of force to break toughened glass which makes it ideal for use in the sides of your vintage or classic ride!