Many people love to buy their furry friend a present and one of the first things they'll think of getting them is a collar. It's a way of showing ownership, but also is a form of decoration and an expression of the persons' individuality.
There is also a more practical reason that many buy collars.. especially if their cat goes outdoors, and that is to allow the provision for attaching a bell (or two) to make it more difficult for their friend to catch the wildlife and also to allow the addition of a tag for easy identification if the cat is lost or picked up.
Cats are endlessly curious, are natural climbers and jumpers and can often find themselves in spots that you wouldn't even imagine they can get to. I've had to rescue my raggies from some interesting places around the house at times and they are strictly indoor only cats. Trouble is by wearing a collar, it adds an element of danger to a cat's life that many people don't think about.. that of safety. Collars can very easily get snagged: on branches, fences, sticks.. even indoor cats face this hazard whilst wearing a collar, furniture, tap handles, plants the list goes on. They can even get their own paws or mouths caught in the collar.
So how do you make them safer whilst still wearing a collar?
The best way is to
choose the right type of collar
. There are vast differences for instance between a dog and cat collar and you should always choose the correct collar for your cat to wear.
So what are the differences?
Well the main one is that a cat collar always has a safety release mechanism of one sort or another. This can take two main forms:
either elastic stripping (image a)
that is a part of the collar usually joined in just behind the buckle,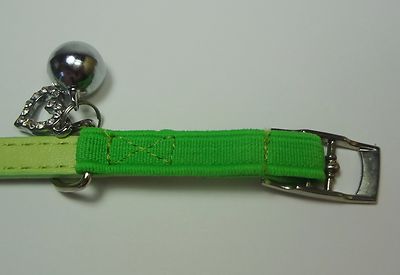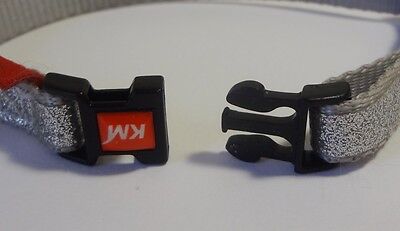 or
a
breakaway buckle/release catch (image b).
With either of these methods the idea is that if the cat gets caught, it is able to twist free; the elastic will stretch and the cat leaves the collar behind on whatever is snagging it, or the collar buckle comes undone and the cat is able to walk away.
Both of these types are good choices
for your cat and as long as they are fitted correctly, will work well.
A secondary difference is
width of collar
. Usually a cat collar is narrower allowing for their smaller size and narrower neck diameter. You should never choose a collar that is wide as this will not sit comfortably and could easily restrict the natural movement of the cat's neck and shoulders when they walk and climb.
Finally, consider the
overall weight
of the collar. A very heavy collar is going to put out the cat's balance and affect its ability to jump and climb safely.. so please choose collars with a lighter weight. Heavy collars with lots of charms or bling are likely to annoy the cat causing them to scratch and potentially damage their skin and fur and also you could be risking their safety.
Even taking all these points into consideration, you should still be able to find just the perfect collar for your friend, one that he will be happy to wear and that you'll be happy to see him wearing.