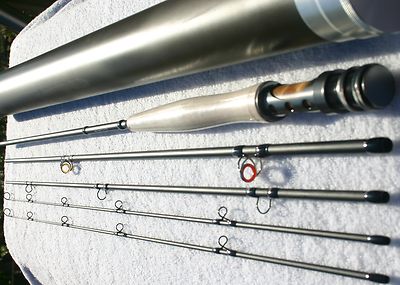 When purchaseing a fly rod for the first time there a number of things to take into account.
1 --- What type of fishing do you intend to do.
( Are you intending to fish mostly small rivers or lake , or salt water. This will determine the size and weight of rod)
2 -- The casting experiance you have may determine the rod action and weight you select.
Rods range from full flex slow action blanks to tip flex fast action rods.
Generaly the slower action rods are less difficult to cast.
4 --- The weight of rods range from #2 Wt up to #11Wt and above.
Most popular weights for trout are #5 #6 #7 the larger weights are mostly required for distance and punching through windy conditions..
Salt water most popular range from #7 #8 up to #11 Wt for larger pelagic species.
5 -- Length of rods.
9' Foot 4 Section are the most popular but can be as short as 6'6" light weight up to two handed 14'foot
5 ___ Budget.
Rods range from Approx $100 carbon Fibre up to $3000 for Hand made Bamboo Rods
Selection depends on the 5 points above.
There is a great selection of quality rods on line and with a little effort you can purchase a rod that will give you a great deal of pleasure for a lifetime.
Most sellers are experienced anglers and are only too ready to help.
This is just a taste into fly fishing i hope it helps.
Try 2012mimosammc1
Happy fishing.