Candle making is fun and very easy to master. It is a great hobby which can bring hours of enjoyment or can be turned into a money making side line. With so much interest in candles today, why not give it a go. It is an inexpensive activity , which the kids will also love.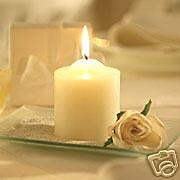 Firstly you will need some supplies:
1. Double Boiler Saucepan Set - Up for Melting Wax - the beast advice here is to go to op shops and purchase old saucepans, you will need a large one to add the water, then a smaller one to sit into the larger pot to melt the wax.
2.Purchase Supplies - You will need wax, wick, moulds, colour, instructions and a candy thermometer, to get you started. Ensure you buy quality products from trusted sellers.
3. Set up a Safe Work Area - This is the most important part. Make sure you have a clean table to work on, cover in newspaper. Have all supplies in easy reach. Get a plastic container ( a kitty litter tray or equivalent works well here) and fill with sand to support your mould when you pour the wax. If any spills out the sand will catch it.
4. Heat Wax - You can do this on a stove or portable electric hot plate. DO NOT HEAT WAX IN MICROWAVE. Gently heat the wax . Add colour and fragrance just before you pour
5. Set up Moulds - While the wax is melting set up your moulds in your sand container. You can use metal, plastic glass. Make sure you prime the wick ( cut a piece of wix and dip into melted wax a few times - this will make it easier to use)
6. Pour Your Candle - Once the wax is ready slowly pour your wax into the mould. You can top up after a while when the wax is setting as it will shrink.
7. Allow to Cool - Set your mould aside and wait for it to cool before removing. Once it is ready, remove , trim wick and light your beautiful hand made candle

For more information visit our store http://stores.ebay.com.au/theozcandleshop
Gel candles are also a great hobby and make perfect gifts. We sell all related products for candle and gel making
Just remember to have fun!!!