AUSTRALIAN ACTIVE CLAY MASKS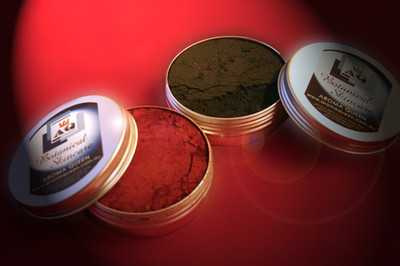 Australian active clays are the result of age-old volcanic activity, rich in valuable minerals. One of the best skin cleansers available, used in a mask they draw out toxins like a magnet - chemicals that have been absorbed into the top layers of your skin through exposure to everyday pollution. Face or body masks stimulate circulation, remove dead skin cells, absorb excess oil and other impurities, and generally improve skin colour and tone, depending on the type of clay used. When a mask is applied, warmth is created beneath the mask: the skin begins to sweat and as a result toxins, waste products and dirt are discharged, cleansing the pores.
Aroma Queen's Boosted Australian Clay is premixed with 50% Mineral-Lite and 50% active clay. Australian Mineral-lite Ultrafine, inc Zeolite, is a natural active hydrous alumino-silicate, high in trace elements, that comes from volcanic mineral ore. Zeolites are the only known negatively charged minerals on earth, naturally attracting and absorbing positively charged pollutants. Mixed with other clays, Mineral-Lite amplifies the qualities of the natural ingredients it is blended with, improving cationic exchange and absorption rates as well as giving your mask a creamier consistency and making it easier to remove after it has dried.

DIRECTIONS
How to Prepare a Mask
Prepare a face mask by placing a heaped teaspoon of clay into a glass, porcelain or stainless steel bowl (avoid corrosive metals). Gradually add enough distilled or spring water, or aromatic hydrosol (see below) until it forms a smooth paste. Apply a thin layer to a clean, damp face, neck or body, avoiding the nostrils and eye area, then lie back and relax for 15 minutes - perfect in the bath.
If your skin is dry or sensitive, do not allow the mask to completely dry - spritz or sponge with water or hydrosol when you feel the clay hardening as it begind to dry out.
After 15 minutes moisten the mask and rinse thoroughly with warm water - sea sponges are great for removing the clay. Pat dry, spritz with floral water if desired. Avoid using cream or oil for an hour or two to allow your skin to breathe. Used once a week (or twice for particularly oily or acne-prone skin), you will immediately feel the
difference.

HINTS FOR AN EVEN MORE LUXURIOUS MASK

* Instead of using water with your clay mix, try replacing it with some natural hydrosol (a product of the steam distillation of essential oils), such as Rose Water.
* Add a single drop of pure essential oil to your mask, to get the added skincare benefits of the oil as well as a gorgeously scented spa experience.
* Try placing a slice of cucumber over each eye while you relax as the clay dries.
* Add different natural ingredients to your mask:
Sweet Almond Oil - regulates skin moisture. For very dry skin
Aloe Vera - healing and rejuvenating. Suitable for sensitive skin
Honey - add a tablespoon. Nutritive and smoothing
Jojoba oil - healing, regulates skin moisture
Wheatgerm Oil - for mature or dry skin
Witch hazel - astringent, soothes irritated skin
Yoghurt - add a teaspoon. For acne, sensitive, oily skin
* Should your mask mixture become too runny, simply add more clay until it reaches the right consistency.

CHOOSE THE CLAY COLOUR TO SUIT YOUR SKIN TYPE AND CONDITION:

BLUE: Washed Blue organic superfine clay is used in the treatment of acne and infected skin
GREEN: Australian Soft Green clay (inc Bentonite) is particularly suited to oily or acne-prone skin
YELLOW: Australian Golden Yellow clay (inc Kaolin) is excellent for all skin types. The perfect pick-me-up
PINK: Australian Pastel Pink clay (inc Kaolin & Iron Oxides) cleanses, firms and tones the skin, especially with repeated use. Great as a body mask for the bust, neck, upper arms
WHITE: Australian Pure White, or Ivory clay (inc Kaolin) is the gentlest and least absorbent of all the clays
Add a touch of red or black for improved results:
RED *: Deep Red clay (inc Iron Oxide) is particularly good for dehydrated and mature skin
BLACK *: Midnight Black organic superfine clay nourishes with its iron and oxygen properties
* blend red or black with other lighter colours at a maximum ratio of 10-20% to avoid staining
All clay colours are available in our AROMA QUEEN EBAY STORE.
IF YOU HAVE FOUND THIS GUIDE HELPFUL: We'd be grateful if you could click on the 'thumbs up' button at the top of the page. Thank you!

COPYRIGHT AROMA QUEEN AUSTRALIA 2015

WHO IS AROMA QUEEN?
Aroma Queen is an established registered Australian online business based on the mid NSW North Coast, in the Bellingen area.

If you're interested in purchasing Australian Organic Clay Masks and other DIY natural skincare ingredients, as well as our full range of Aromatherapy, Incense and Smudging products, please visit our AROMA QUEEN STORE.

DISCLAIMER
The advice within this website is general and not specific to individuals and particular circumstances. Before using herbs, essential oils or other natural treatments, check all cautions and restrictions. Aroma Queen cannot be held responsible for any injury, damage or otherwise resulting from the use of any treatments or products within this website. Do not attempt self-diagnosis or self- treatment for long periods or for serious problems, without first consulting a qualified medical practitioner. Always seek professional medical advice if symptoms persist.