The seed that would grow into James Avery Craftsman was sown when a former World War II B-26 bomber pilot who survived 44 missions over Germany earned his B.F.A. degree in Industrial Arts at the University of Illinois. He began exploring jewelry-making techniques with his students at the University of Colorado. At the time, James Avery had no idea that his passion would eventually lead him back to the Hill Country of Texas (which he first discovered during his fighter-pilot training days at Lackland Air Force Base in San Antonio) to eventually found the half-century-old jewelry company that now bears his name.
In the early 1950s, James Avery decided to leave the teaching profession and go into the jewelry business full time. He also returned to the church after many years spent as a self-described "defensive agnostic," explaining, "That is why so much of my work is in Christian symbolism."

He started with $250 in capital, which he invested in hand tools plus some scraps of silver and copper. For the first three years he worked alone, in a humble garage, at a simple bench he made himself. Word gradually spread of the talented craftsman in the hills, and gradually people found their way to his door. In 1957, Mr Avery hired his first employee and mailed his first Christian jewelry catalog. It was 16 pages long and featured 39 items, all handmade.
In 1965, he incorporated the company as James Avery Craftsman, Inc., and in 1967 built the company's present headquarters on 20 rustic acres near Kerrville, Texas. James Avery officially handed over the reins of his company to sons Chris (CEO) and Paul (Executive Vice President) in 2007, but he remains the Chairman of the Board Emeritus and spends most days in his office in Kerrville doing what he loves best: designing and creating new jewelry items.
---
From the very beginning, James Avery preached the gospel of integrity and good taste — hence the company's slogan, "A tradition of integrity". It was James Avery's desire to create jewelry that had meaning for him and his customers as well as having lasting value. "The Avery Look" is not about being new. Instead, it seeks to assimilate and reflect many cultures and the art of those cultures. "One might say that The Avery Look is an attempt to embody an insight into all ages and periods of artistic achievement. It is difficult to define," says the company website. But each piece must pass the fourfold test that has become the company's guiding philosophy: Simplicity, Integrity, Meaning, and Universality.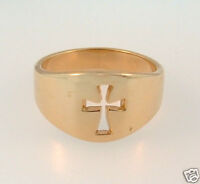 Perhaps the company's best-known piece embodying this four-part philosophy is the Crosslet Ring. An Avery favorite since its introduction in 1962, this ring sends a simple, direct message of faith. As shown above, its deceptively uncomplicated design depicts a band ring in 14-karat gold or sterling silver with a cut-out cross at its center. It is available in both Wide and Narrow versions: The Wide Crosslet Ring (seen here) measures 7/16 inch wide, while the Narrow Crosslet Ring measures 5/16 inch wide. Variations on the Crosslet theme include the Small Crosslet Ring (where the cross is cut into but not through the ring); the Raised Textured Crosslet Ring (which is just what it sounds like); the Square Crosslet Ring (ditto); the Crosslet Heart; the Crosslet Butterfly Charm; the retired Teardrop Crosslet; and the Crosslet Bookmark.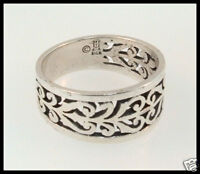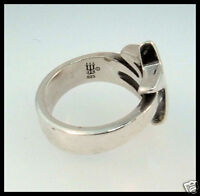 Except for certain iconic designs such the the Crosslet, identifying James Avery jewelry items from their look alone is not always easy. Keep at it, however, and you'll soon develop an eye for JA. Here are some helpful hints.
Genuine pieces always bear a maker's mark and hallmark, with the exception of the dangle charms (which are made to be hung from a ring). The hallmarks do vary slightly, but in most cases they are based around a three-candled candelabrum with the initials JA at its base. As shown above on the Open Adorned Ring (left) and Shooting Star Ring (right) respectively, this candelabrum may be accompanied by the © (copyright) symbol, either on its left or on its right or even above or below the candelabrum, along with the notation STER or 925 (for the percentage of actual silver in sterling silver) and 14K or 585 (the numerical designation for 14 karat) underneath the candelabrum.
I've seen at least one charm that was hallmarked with the candelabrum plus the word STERLING. I've also seen one retired sterling silver cuff bracelet that was hallmarked with the candelabra plus the notation STER M. In one case, on the Animals of the Ark Bangle Bracelet, I've also seen the hallmark AVERY STERLING. The dangle charms usually have no hallmark at all.
---
On some items whose design is too fine to fit the candelabrum hallmark (such as the Tresse Wedding Band, below left) or on those for which room must be left for engraving (such as the back side of the First Communion Medal Charm shown here, below right), it may say simply: AVERY 925; AVERY STER; AVERY © STER; or AVERY © 925. The hallmark may vary even on the same piece within the jewelry line, depending on when it was produced.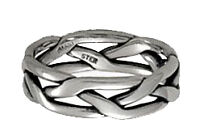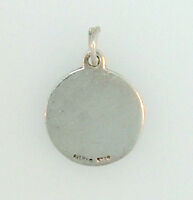 For gold items, look for the notation 14K, 18K, or simply 585 or 750 (the numerical designations for 14K and 18K gold respectively) along with the signature candelabrum or just the word AVERY, sometimes along with ©.
Mixed-metal items will bear both the 14K, 585, or 18K notation and STER, STERLING, or 925 with the JA candelabrum or AVERY. A retired brass and sterling silver Christmas Tree with Ornaments "pindant" (combination pin/pendant) is marked with the candelabrum plus the hallmark BRASS © STERLING. Another retired "pindant" — a dove symbolizing peace, reconciliation, and the Holy Spirit — is marked with the candelabrum plus the hallmark © BRASS STER. A pair of retired brass and sterling earrings is marked with the candelabrum plus STER BRASS.
In the case of sterling silver chains, they will be hallmarked AVERY STER, AVERY STERLING, AVERY 925, or AVERY 925 STERLING on a flat loop adjacent to the clasp. A chain may even be marked AVERY STERLING on one side of the flat loop and 925 on the other. A ring clasp may also be hallmarked STERLING. If it is a lobster-claw clasp, it may be stamped 925 on one side of the claw, the head, or the base.
Gold chains are marked AVERY 14K or AVERY 585 14K on the flat loop adjacent to the lobster-claw clasp, while the lobster claw is marked 14K or 585.
There is one other special hallmark to look for. In order to maintain the quality for which the company is justly famed, James Avery, Inc., is vertically integrated, meaning that they design, manufacture, market, and sell their own product line. But approximately 20 years ago, some turquoise finishing work was outsourced to Mexico. Items from this era, such as the turquoise and gold cufflinks shown below, bear the James Avery signature hallmark candelabrum along with the notation 14K (or STER or 925) and the word MEXICO.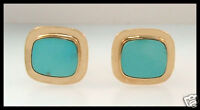 James Avery offers the full gamut of jewelry and related items, including: bracelets; charms; cuff links; earrings; money clips; necklaces; pendants; pins; pocket pieces; and rings plus bookmarks, cameo cards, paperweights, ornaments, and wall plaques. They manufacture 1100 designs and 14,000 separate jewelry items for men and women in sterling silver, 14k and 18k yellow and white gold, and gemstones.
---
Specialty items include the religious items for which the company originally became known along with gifts for anniversaries; baptism, confirmation, and First Communion; birthdays, including Quinceañera; Christmas; Easter; Father's Day; graduation; Mother's Day; new baby; purity; Valentine's Day; and, of course, a comprehensive line of wedding and engagement jewelry, including wedding bands.
Another specialty line is camp charms. There are 150+ camp charms alone, commemorating summers at Camp Arrowhead, Camp Kickapoo, Camp LaJunta, Camp Mystic, Camp Waldemar, Happy Haven, and Heart O' The Hills, among others. In addition, there more generic but equally adorable charms depicting camp icons such as a bunk bed, footlocker, rubber raft, canoe, boat paddle, life preserver, badminton birdie, tennis ball, kerosene lantern, swim fins, english stirrups, western saddle, archery target, bow and arrow, and I (heart) CRAFTS.
Finally, there are 8 milagros (miracles) charms (now retired); state charms for each state where there's a James Avery store; and several university charms. In addition to "Ivy League" charms with various varsity numbers, there are charms for Baylor University, University of Houston, Oklahoma University, Texas State University, The University of Texas, and Texas A&M.
---
The famed jeweler now has 48 retail locations: 41 in Texas, 1 in Colorado, 1 in Louisiana, 2 in Oklahoma, and 3 in Georgia. They will polish any James Avery item for free if you bring it in to them. They'll also solder any charm with an uncut jump ring for free. A comprehensive catalog of the company's designs — including some, but not all, retired pieces — also can be seen on their website. But the best source of "estate" (previously owned) and/or retired James Avery jewelry is
eBay
, with many pieces in excellent condition available at considerable savings.
James Avery Craftsman also is known for their strong belief in serving their community with the same passion and care they bring to crafting their jewelry. They support a number of organizations on a local level in the cities in which their stores are located, including those involved in health care and relief; education and development of children; faith-based organizations; arts and culture; and the environment. On a national level, they have teamed up with Boys & Girls Clubs of America as their primary charity. In 2008, James Avery offered a special God Bless Our Troops Pendant in 14-karat gold and sterling silver, sales of which benefited the Boys & Girls Clubs of America's support of the U.S. Military Youth Centers.
On any given day, searching on eBay for
James Avery
will pull up about 6000 items at prices ranging from 99¢ to more than $1000. You'll run across a few items that aren't the kind of
James Avery
you're looking for, so filter your search by category: Click "Jewellery & Watches" in the left-hand sidebar to restrict your search to jewelry items. You just might find some JA treasures!