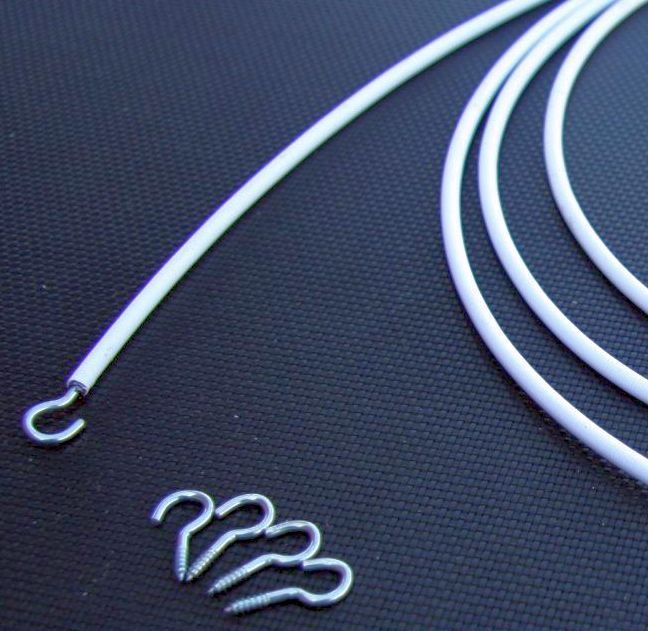 What is Curtain Stretch Wire?
Essentially, it is a continuous spring steel coil, coated in a flexible plastic (PVC) coating.
It can be cut to any length to suit your specific application/s
Why is it Used?
Curtain stretch wire is a lightweight, easy, fast and inexpensive way to hang lighter weight curtains, lace or sheers
Stretch wire works well as your solution to 'emergency' window covering situations.
Where is it Used?
Unobtrusive on french doors, kitchen, laundry and other smaller windows. Ideal in caravans and boats. Use stretch wire when you don't have room for tracks or simply want a simple, inexpensive and fast way to install a window covering!
How is it Installed?
Decide on where you wish to have the curtain - in the home it is commonly fitted inside the window frame (inside reveal fit), or on the widow architrave (outside reveal fit). Consider where the mounting / anchor fitting (the hook) will be secured, then install them.
To give you sufficient tension, as a rule of thumb
the wire is 5% shorter than the distance between the hooks
eg if its 900mm between the hooks.... 900 x 0.95 = 855mm
Cut the stretch wire with side cutters, pliers etc ...... not scissors!
Screw an eye into ONE end of the stretch wire.Test the tension, THEN screw in the second eye! (you will be able to unscrew one eye relatively easily - the other one will
not
screw out (believe me !) ..... not like in my picture :)
HINT: I always find it easier to screw the eye into the stretch wire - its easier to pass through the pocket in a sheer or lace curtain, and its safer if the stretched wire happens to hit you! ......
Fitting the Curtain
Slide the wire into the curtain or through the split rings, hook one eye onto one hooks, then stretch over to the second hook.
Easy as !