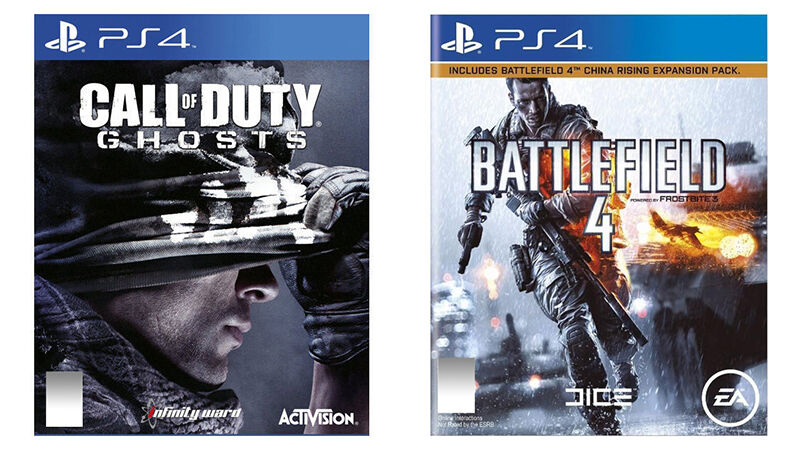 When it comes to first person shooter (FPS) video games that allow the players to see through the eyes of in-game characters, the selection is quite large. The "Call of Duty" and "Battlefield" franchises have garnered critical acclaim, and they offer unique gameplay in engrossing three-dimensional worlds torn apart by the rattle of gunfire. Deciding which franchise to dive into is not always easy, and gamers should weigh the pros and cons of each game series before making purchases.
Call of Duty
Activision's "Call of Duty" franchise dates back to 2003. The first three titles in the series take gamers onto the battlefields of World War II, but the introduction of "Call of Duty: Modern Warfare" in 2007 shifted the action forward in time. "Modern Warfare 3" even gives gamers the chance to use high-tech gadgets in futuristic combat.
Pros
"Call of Duty" is a well-supported, popular franchise, and Activision reported total sales of $10 billion in 2014, according to PC Magazine. The level of popularity is due to exhilarating online battles with accessible controls and aiming assistance and exciting character-driven single-player games.
The "Call of Duty" multiplayer mode has undergone refinements since the debut of the first game. The result is a polished, professional, and accessible game that is highly enjoyable, according to the GamesRadar website.
In addition to tense online battles, "Call of Duty" offers a single-player experience that is truly cinematic. For 2014's "Call of Duty: Advanced Warfare", actors Kevin Spacey and Troy Baker assumed the leading roles in a story about a United States Marine Corps soldier.
Cons
Since changes for each new title are minimal some gamers feel they have "seen it all before". The "Call of Duty" multiplayer experience has always focused on mobility and "run and gun" strategies. Despite the introduction of new elements, such as exo-suits, the multiplayer game in each new title remains largely unchanged, which is not appealing for gamers seeking new multiplayer thrills. Furthermore, there is limited interactivity with the environment, with only a few walls and vehicles exploding under sustained fire.
"Call of Duty" focuses on accessibility and gives new players a chance to take part in a multiplayer game and rack up kills like a professional with the help of aiming assistance and easy to use weapons. Because this style of playing involves less skill, some advanced gamers feel the game is too easy.
Battlefield
The first game in Electronic Art's "Battlefield" series debuted on PCs in 2002. The franchise stands out in a crowded market because of its emphasis on vehicle warfare, large-scale maps, tactical planning, and assisting allies. In 2013, "Battlefield 4" won several industry awards, including Game Chronicles' "Best Multiplayer Game" award and GamesRadar's "Best Graphics" award.
Pros
The main selling point of "Battlefield" is the multiplayer element, which encourages gamers to form teams to dominate online. There is a real sense of accomplishment that goes with being a good team player and watching a well-constructed plan succeed. The thrilling multiplayer battles lead to situations that Electronic Art's calls "Battlefield moments". These moments include players jumping out of helicopters, landing on jeeps, operating gun turrets to take out planes, and crashing tanks through walls. There are many ways to achieve goals, and the games reward creative play.
Learning to control a wide range of vehicles, adopting strategies, mastering sniping, and using a variety of other skills makes playing a "Battlefield" game a deeply satisfying experience. Furthermore, working as a team to overcome challenges is rewarding and keeps players interested.
Cons
The emphasis on the multiplayer experience means that the "Battlefield" single-player campaign feels like an afterthought to some gamers. The stories do not have the cinematic appeal of the "Call of Duty" titles, and the single-player stories lack the variability and excitement that gamers find in the multiplayer battles.
Upon the release of "Battlefield 4", some reviewers recommended players skip the campaign mode completely, according to the Red Bull website. That means that "Battlefield" may not be ideal for players looking for engrossing single-player campaigns.
How to buy video games on eBay
The popularity of first person shooter video games for PCs and consoles has led numerous game designers to create a variety of game choices. To browse the various titles available on eBay, start by entering a search term such as "Call of Duty" into the search bar available on every page and then use filters to refine the results based on price, condition, game system, and more. Always read descriptions carefully to ensure the games you buy are compatible with your particular game console.