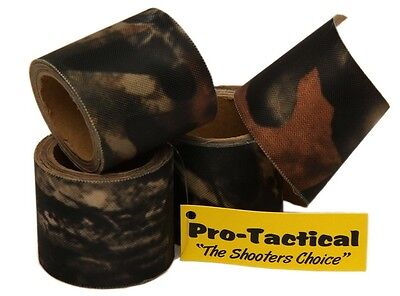 What use can be tape on your hunting or camping trips, right? Wrong. You never know when you might need to patch up a torn bit of clothing or protect your equipment from the dangers of the surroundings. In that case, camouflage tape is your best option. For one, it helps protect the stuff you are carrying with one, plus it blends in with the environment. It is quite akin to wearing camouflage clothing, the only difference being the tape can be used only on the stuff you take with you.
The great thing about camouflage tape is its durability and adhesiveness. Once you stick it, it remains stuck. You don't have to worry about replacing the tape anytime soon after you have applied it. Therefore, you won't have to use too much of it, regardless of what you are using it for. Even then, it is available on the cheap so this is one of the cheapest accessories you can carry with you on your hunting.
Considering the different purposes for which you might camouflage tape useful, the price you have to pay for it and the space it takes up, it is one of the best accessories you could take with you. Even if you feel there is no way you are going to need tape on your trip, it won't hurt to stash a roll your bag. It wouldn't take too much space.
So, if you are planning to leave on a hunting trip soon, order some camouflage tape now.
CLICK HERE
to purchase Camo Tape